A guide to golf on Gran Canaria
By: Golfshake Editor | Tue 02 Jun 2015 |
Comments
---
This article was produced in association with Golfbreaks.com
---
Gran Canaria is the second most populous of the Canary Islands, with a resident population of about 840,000. Almost half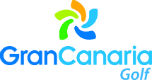 of those people live in Las Palmas, the island's capital.

It boasts a wonderful all-year-round climate and, unlike many parts of mainland Spain, it is rarely unsufferably hot, even at the height of the summer. The average temperature is 24C. That means it is the perfect destination, whether you are planning a golfing break, a family holiday or a combination of both.
It's an island, so there is usually a cooling breeze to take the adge off the heat. Best of all, there is little or no rainfall so no matter what time of year you choose to come, you can be sure of good break, whether your aim is to play golf or relax with the family
---
Anfi Tauro is one of a collection of stunning course on Gran Canaria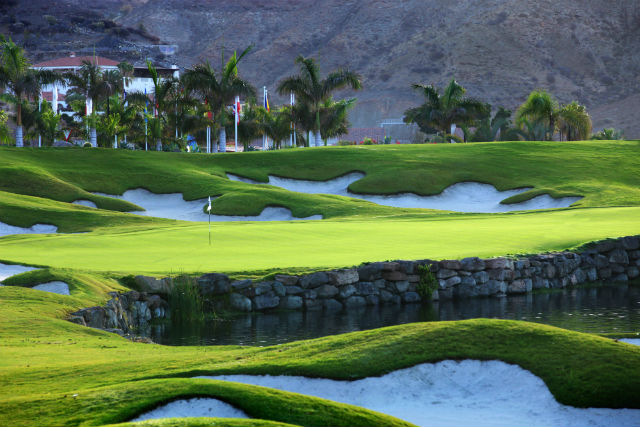 ---
FOLLOW THE SUN
For sunseekers, Gran Canaria provides some of the best beaches in Europe, and it is just a four-hour flight from London, so you will be at your hotel in next to no time. Gran Canaria is a little miniature continent, an island close to Europe, with a choice of beaches as diverse as the changing landscapes it hides away. There are just under 60 kilometres of beaches along the island's 236 kilometres of coastline..

There are the busiest and best known beaches, such as the large stretch of sands at Maspalomas, a long strip of golden sand around a desert of dunes bathing the southern tip of the island.
Visitors will also find another set of beaches at the south, quieter family beaches, such as San Agustin, Amadores or Puerto de Mogan. Alternatively you might prefer the more lively traditional tourist enclave of Puerto Rico.
Maspalomas, Playa del Inglés and Meloneras offer a vast number of hotels and apartments, loads of leisure options during the day and an attractive night life around the beaches.
WHAT CAN I DO AND SEE?
Maspalomas is not just known for its enormous expanse of dunes next to the sea, or its great climate. It is also known for its Old Lighthouse, which saw the first tourists arrive, and witnessed the area turn into a holiday resort. Ever since it dawned on the first travellers that the glorious climate was a permanent feature on this beautiful beach, the Maspalomas Lighthouse has been the silent witness to thousands of days of sun, honeymoons, dips in the sea and strolls along the promenade.
Gran Canaria is an outdoor paradise where you can go hiking in the forests, mountain biking, and climbing. But most activities centre around the water, with swimming, windsurfing kitesurfing and diving all popular pastimes
AND WHAT ABOUT THE GOLF?
There are seven golf courses on the island, including two at the Sheraton Salobre, which is a five-star resort. Although the island is relatively small, the courses are all very different - a mix of parkland, links and desert-style. And a Gran Canaria golf pass will enable you to enjoy them at the best possible price.
Another added bonus is that all hotels and resorts are just a short distance from the airport.
Salobre New and Salobre Old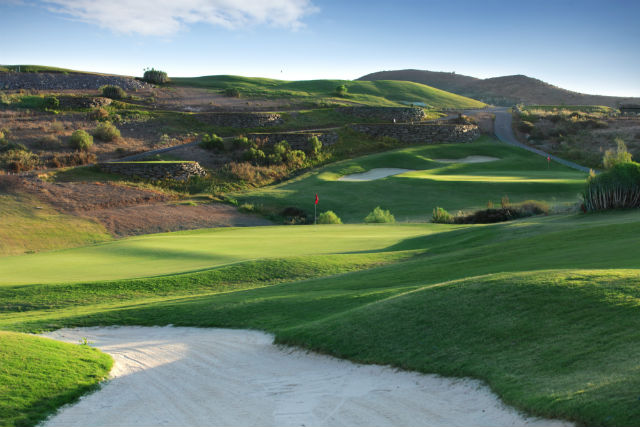 Established for more than 12 years, Salobre Golf and Resort continues to expand and develop and is well worth experiencing. It is the only resort in the Canary Islands to feature two golf courses, Salobre New and Salobre Old. It also has a state-of-the-art practice area, a club fitting performance centrer, which includes a Golf Academy, Trackman System and TPI.
The New Course will surprise players looking for a new experience with its unique landscape. It is a technical and demanding course with a links feel brought about because of the way it incorporates its surroundings and natural habitat. It is a delight.
El Cortijo Club de Campo

Located along the GC-1 motorway, just six kilometres from the city of Las Palmas de Gran Canaria, this course is one of the longest in Spain. But don't worry as each hole features six tees, allowing golfers of all levels to enjoy it.
Integrated into a plantation that features hundred-year old palm trees, the course meanders through three valleys filled with indigenous flora. The six lakes provide a refreshing atmosphere completed by views of the sea. It is a visual treat.
El Cortijo Club de Campo played host to the 2002 Spanish Open, won by Sergio Garcia, so you know that we are talking about a venue that favours shotmakers. No visit to Gran Canaria is complete without a trip here.
Maspalomas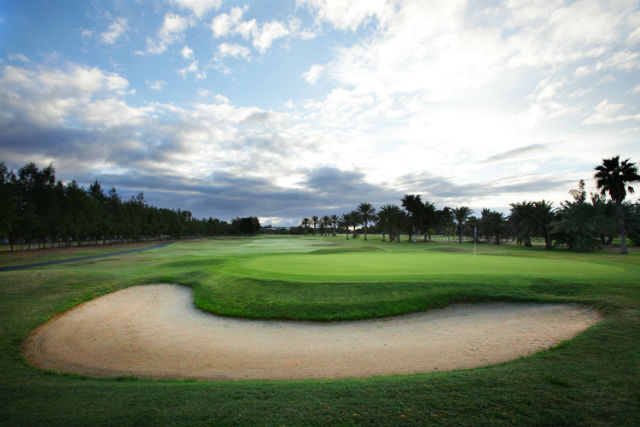 Located in the south of the island, which has just about the most sunlight hours per year. It is surrounded by the dunes nature reserve, a protected area of more than 400 acres, a characteristic built into the design of the course.
This flat and extensive course has long, wide fairways, encouraging you to open up your shoulders and go for it. You will feel the gentle breeze that comes off the sea, ensuring you enjoy every minute of your time here.
Real Club de Golf de Las Palma
Las Palma is the oldest golf club in Spain, inaugurated was back in 1891. The course is located alongside the crater of an old volcano, highlighting Gran Canaria's volcanic origins. It makes full use of the geography, providing amazing views of the summit, the sea and its spectacular, deep ravines.
The Bandama Golf Hotel is on the same course, located beside the first tee and offering breathtaking views from your room out over the course. It may not be a long layout, but the fairways are narrow and the greens are small, so accuracy is the watchword. And you will want to keep away from the ravines.

Anfi Tauro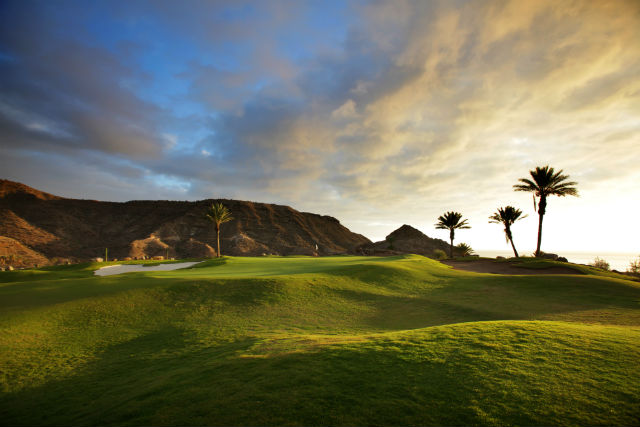 This course could easily be added to your bucket list and has been voted one of the best in Europe. It boasts an unrivalled landscape with deep ravines and boasts a rich variety of plants, flowers, water features and bunkers.

Subtropical Vegetation, lakes and waterfalls are integrated into the course and offer a sharp contrast to the green carpet of the playing surface, creating a golfers' paradise. The driving range at Anfi Tauro Golf is one of the best on the island since it allows balls to be hit from both ends. AnfiTauro Golf is beautifully maintained, with attention to detail at its heart.
Meloneras

The Meloneras Golf Course, situated in the south of Gran Canaria, along the Meloneras Bay, has nine holes that incorporate mountain views and nine holes that run close to the ocean, three of which are located on the coastline.
Each hole has four tees and it provides golf buggies equipped with GPS. The first hole is straightforward, but don't be fooled as it becomes increasingly more challenging as your round progresses.
THE HOTELS
Booking with Golfbreaks.com gives you a wide range of top-quality hotels to choose from, such as the magnificent Gran Hotel Lopesan Villa del Conde 5* beachfront hotel which is built in traditional Canarian style. It features 561 rooms, either with garden or sea views and is located close to the Maspalomas bars and restaurants district.
The Hotel Gloria Palace San Agustín 4*, also on the south of the Island is located in a quiet part of San Agustin just 600 metres from the beach and a 15 minute walk from the well-known area of Playa del Ingles.
If you would prefer stay on the north of the island the Bandama Golf Hotel 3* is a proper golf hotel, where you will find plenty of kindred spirits. Set in a protected reserve, this hotel is surrounded by stunning natural landscapes with two golf courses on the doorstep - Real Club de Golf de Las Palmas and El Cortijo Golf Course is just 10 minutes away.
For more information on golf breaks to Gran Canaria - Click here
---
Related Content:
What do you think? leave your comments below (Comments)
---
Leave your comments below
comments powered by

Disqus
More Golf Course & Travel Features
Plan your next golf break with Golfbreaks.com