Golf at Grand Cypress
By: Golf Shake | Tue 02 Jun 2015 |
Comments
---
GRAND CYPRESS, in central Florida, is one of the best golf resorts in the entire United States, boasting 45 holes designed by the legendary Jack Nicklaus.
When the Golden Bear puts his name to a project you can be absolutely certain that "quality" will be the watchword, and Grand Cypress is no exception. The resort has been given a Forbes four-star rating - regarded as the gold standard in the travel industry for more than 50 years
The Villas of Grand Cypress and its restaurant, Nine18, were given a Four Stars award in 2014. It has also won a host of other awards and accolades for the quality of the accommodation, food and golf courses and service. As the name implies, you will be staying in a state-of-the-art villa, finished to the highest possible standards.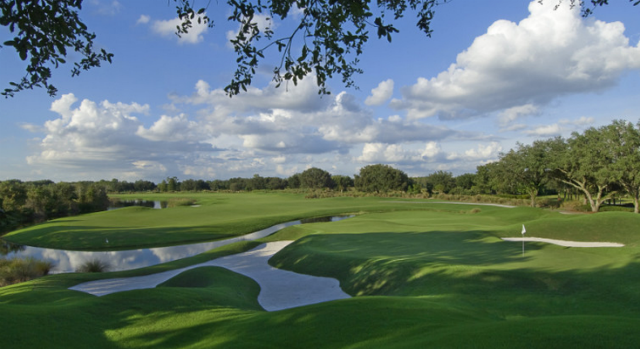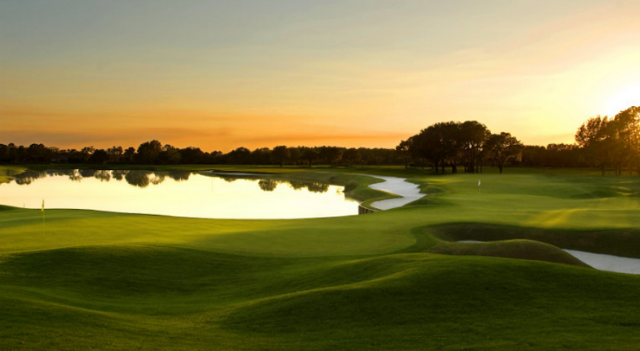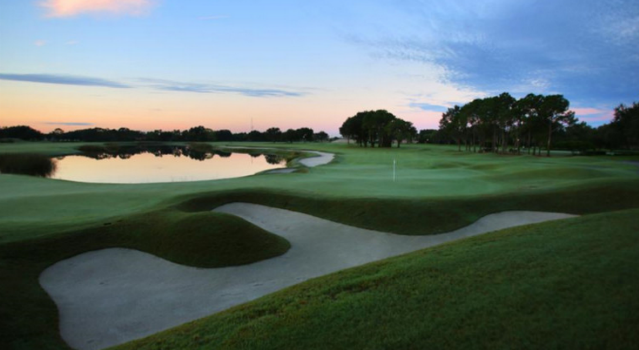 A huge amount of money has been invested in keeping the villas and their surroundings at the head of the field. In fact, $100,000 has been spent improving each villa on the resort to offer a standard of quality you will find at few other golf resorts. The new designs incorporate custom furnishings, with Grand Cypress determined to give its residents an experience they will never forget. Check out Trip Advisor and you will discover that the accommodation here is rated as the best in Orlando - bar none!
If you are here for a special occasion, the staff at Grand Cypress will do everything they can to ensure that it is an unforgettable one.
The resort is just 30 minutes from Orlando International airport and is well placed for all the best-known tourist attractions for which the state is so famous. Disney World, Daytona beach, SeaWorld - the list is endless.
It is located next to Walt Disney World in 1,500 acres that feature 146 luxury villas, golf courses and a superb golf academy. And it provides transport to Disney World, SeaWorld and Universal Orlando.
There is no reason to venture off the resort for dinner but if you decide that you want a change of scene there are dozens of restaurants nearby, covering every possible cuisine you could imagine. It is just 20 minutes from Sand Lake Road, which is known as 'Restaurant Row'.
The resort facilities are astonishing. There are two swimming pools, tennis courts, a nine-hole pitch and putt golf course, health club, internet access in every room, cycles, boats, a climbing wall (use of this is not compulsory, you will be pleased to learn), driving range, fishing, practice holes, morning newspaper delivery - if you can think of it, it is likely to be on tap.

And if you have been to this part of the world before, you will know that service with a smile comes as standard. When they say: "Have a nice day!", they genuinely mean it.
Can you imagine playing the Old Course at St Andrews? Now can you imagine playing it without the wind, the rain and the mist? No? Well it is possible. How?
Nicklaus has created an 18-hole layout that is a tribute to the Old Course and mirrors many of its classic holes. Confusingly, it is called the New Course, but we will forgive Jack for that.
Grand Cypress, New Course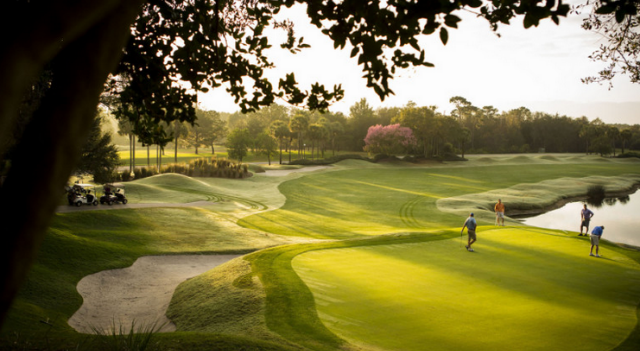 Here it is then, the course that Jack built in the heart of Florida as a tribute to the most famous links course on the planet, the Old Course at St Andrews. Has he pulled it off? You bet he has. It is a masterpiece, complete with huge double greens, stone bridges and walls, and pot bunkers, some of which are an astonishing 12 feet deep. Find your way in there and you may never be seen again. Unsurprisingly, the greens are quicker than you would find in Scotland, the gorse may not be quite as thick and the weather could not be more of a contrast.
Just like the Old Course at St Andrews, there are very few trees and Nicklaus has created generous landing areas - but he also built 150 pot bunkers.
There are countless arguments about which is Jack Nicklaus' finest golf course, but it would be extremely difficult to argue against this being right at the very top of the list.
Grand Cypress, North, East and South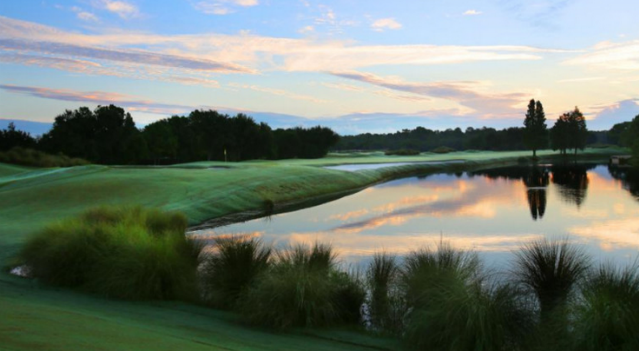 The North, South and East Nines can be combined to provide a variety of layouts. The par 72 North-South combination is the original golf course at Grand Cypress. With sharply ledged fairways, tall mounds and elevated greens sitting above the water or sand, it is an enjoyable but demanding course.
The East nine has wider fairways and fewer bunkers and allows players to be more imaginative when it comes to playing approach shots. Yes, you can throw the ball high in the air and it will stop quickly enough, but there is also the option of running the ball up to the greens.
The signature hole is the fifth on the East course. It features an island green - a rarity on a Nicklaus course - and demands an extremely accurate shot.
The North, South and East nines have their own distinct qualities but combine to make up three different and beautiful 18-hole combinations that will provide a good challenge for golfers of all levels.
The original North-South course was redesigned in 2007-08, with Nicklaus altering several holes and extending the layout.
For more information about golf breaks to Grand Cypress - Click here
---
Related Content:
What do you think? leave your comments below (Comments)
---
Leave your comments below
comments powered by

Disqus
More Golf Course & Travel Features
Plan your next golf break with Golfbreaks.com