A guide to golf in Oregon
By: Golfshake Editor | Mon 25 May 2015 |
Comments
---
When seeking out a golf destination, the state of Oregon probably wouldn't come straight to mind. However, that is until you spend a few minutes reading about what it is on offer. The links-like resort of Bandon Dunes has grown into a must-visit locale for (particularly) Americans, seeking out a warm welcome and a taste of the sort of seaside golf that you experience in Scotland and Ireland. It has proven to be particularly popular – rightfully so – but there is a lot more to the golfing menu of the Beaver State than you would have expected. The city of Bend is where you should base yourself.
Situated in the Pacific Northwest of the United States, Oregon sits just north of California and south of Washington State (which borders Canada). Bend is the most populated city found in the centre of the state in the 'high desert', which, naturally, lies 3,500 feet above sea level.
Why stay in Bend? Well, there is a plethora of great and varied golf courses in the area. In a sense, Oregon is an amalgamation of what you find across the country. Pronghorn has two courses (designed by Jack Nicklaus and Tom Fazio), and is akin to what you would see in Scottsdale and Palm Springs, Tetherow is a highly-regarded links-like course in a beautiful setting, while Black Butte features many hallmarks to the brand of golf that you would experience at the majestic Pinehurst.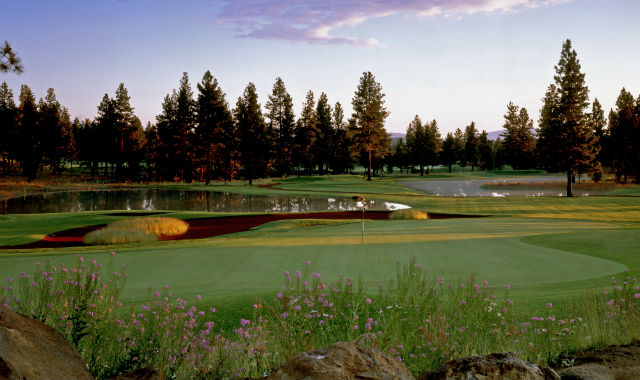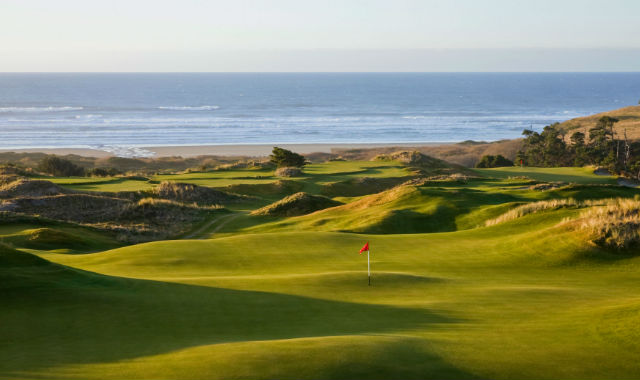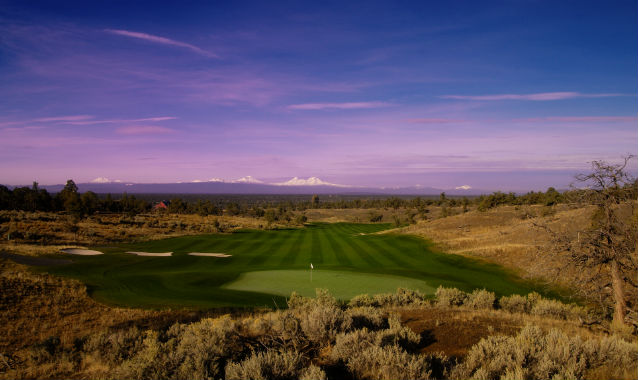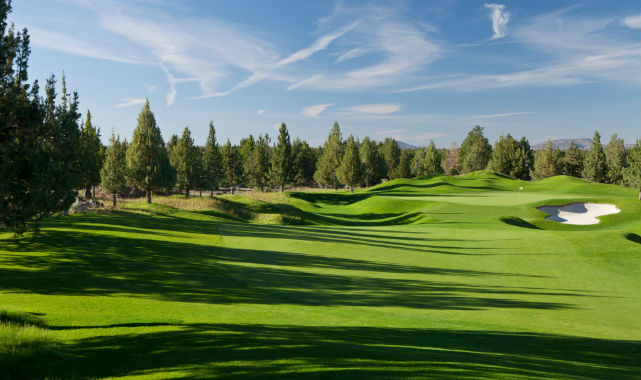 Designed by Peter Jacobsen and Jim Hardy, Brasada is a real jewel in the crown with stunning views of the mountains and a change in elevation of 1,000 feet. Crosswater (at Sunriver) is a heathland-style course that has been labeled by Golf Digest as one of the 100 greatest courses in America. Its reputation has seen it become one of the true marquee names of the area, and shares many similarities with golf in South Carolina. Big carries over marshland and water are a huge feature of this course. The one small caveat to Crosswater is that you will have to be staying on-site in order to play there.
The golf is unquestionably varied, but the weather is (thankfully) fairly predictable.
With 300 days of sunshine a year, the climate in Bend differs significantly from the perception that the weather in Oregon is not dissimilar to that of the UK. That is true for the area west of Bend, down in the valley on the other side of the Cascade Mountains. However, Bend's elevated position above sea level shields it from the rain by the mountains.
Temperatures do drop dramatically in winter, so the ideal time to visit is between April and October. Though, the winter months do offer the unique opportunity of skiing in the morning and golf in the afternoon.
Another appealing aspect to Bend is its remote location. There is very little traffic and it is totally unspoilt. Very different to a destination like Florida. Consequently, it is the perfect place to go for those hardened golfers who favour more authentic destinations, or fancy an alternative to the more well-trodden paths. With Bend's main industry being domestic tourism, you will be warmly welcomed and catered for when staying in the area.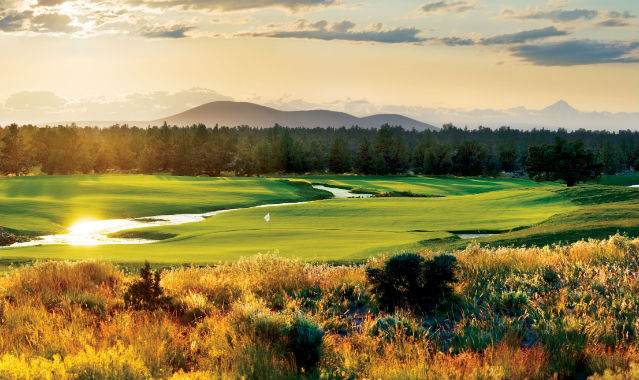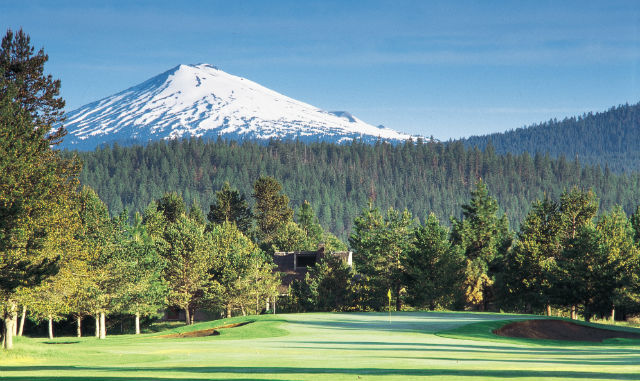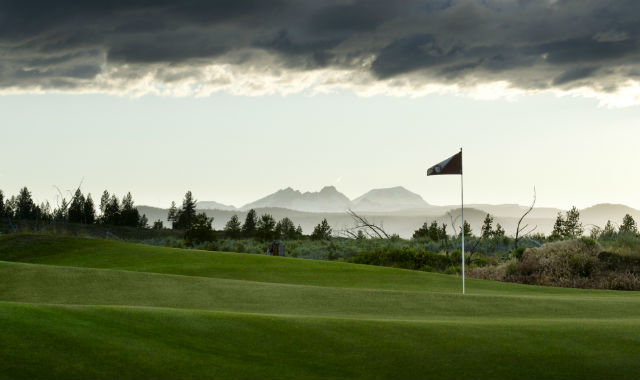 That hospitality has channeled itself into food and drink. Bend has become a highly desirable place to live for Americans (similar to Charleston in South Carolina), and as such has attracted some well-regarded and skilled chefs. Its two main streets - Wall and Bond – are packed with great restaurants and pubs. There are more than 30 micro-breweries in the area, which should find particular resonance with British visitors. It is a great place to spend time.
When not eating and sampling the local beverages, there are many additional outdoor activities (not just golf) in the surrounding area. Fishing, mountain biking, hiking, rock climbing, skiing, white water rafting, kayaking – they are all available with one hour from Bend. There is a lot to experience. Your days will certainly not be empty.
How to get there
Not a journey for the faint hearted – but the reward is obvious. Like many destinations in the United States, it is likely that you will need to connect. For Bend, the best way will be flying (with British Airways) to Los Angeles and Seattle. From there, you would then to the local airport – Redmond – which is only 20 minutes north of Bend. In total, the journey will take around 20 hours – door to door – which will have to be managed with an 8-hour time difference from the UK.
Alternatively, Air Canada fly to Portland via Vancouver – which would then set you on course for a scenic four-hour drive to Bend. This car-journey is utterly spectacular, as the road takes you over Mt Hood and across the mountains in the area.
The travel is undeniably challenging, but this destination is certainly worth it.
Accommodation
There are a number of options. Perhaps the most highly recommended would be staying in Bend itself at the DoubleTree (Hilton). This hotel is literally at one end of Wall Street and therefore a 2 minute walk into town. Rooms are spacious and it has just undergone a complete refurbishment.
Fairfield Inn is another option within Bend, situated approximately a 15-minute walk from the centre of town, it is less expensive when compared to Double Tree – and provides reasonable access to the local amenities.
Outside of Bend, Tetherow is a great option for those wanting to be near the town. Two brand new accommodation lodges with very specious suites, while regular shuttle busses are run into town and to the other golf courses free-of-charge. Certainly an option to consider.
Sunriver, 30 minutes south of Bend, is the major resort in the area with a lot of accommodation options, with the 'River Lodges' being the most appealing. These are new rooms which are spacious and absolutely perfect for golfers.
Pronghorn and Brasada were both originally built to be exclusive golf communities, however when the recession hit they had to change tack in order to remain thriving. Accommodation here is in the form of condo/suite style blocks, but there will be a new hotel being opening at Pronghorn for 2016.
Recommended Package
Staying at the DoubleTree or Fairfield Inn with golf at Pronghorn (either course), Brasada, Tetherow and Sunriver (not Crosswater). However, if you desire to play the highly regarded Crosswater course, you will have to include one or two nights at Sunriver in order to play it.
Don't miss out. Oregon is truly a gem in the crown of United States golf.
For more information on golf holidays to Oregon please visit visit Golfbreaks.com
---
Related Content:
What do you think? leave your comments below (Comments)
---
Leave your comments below
comments powered by

Disqus
More Golf Course & Travel Features
Plan your next golf break with Golfbreaks.com