A guide to golf at Marriott Hotels
By: Golfshake Editor | Thu 26 Mar 2015 |
Comments
---
This article has need posted in partnership with Golfbreaks,com
---
THINK of Marriott and the odds are that the image of a hotel you have stayed at will come to mind. Marriott hotels are

among the best in the world and located in some great places, did you know that the company also owns 16 golf courses in Britain, 11 of which are of championship standard?
It came as a surprise to me, too, especially when I discovered that they include St Pierre, which has hosted 11 European Tour events, the magnificent Hanbury Manor and the Forest of Arden.
HANBURY MANOR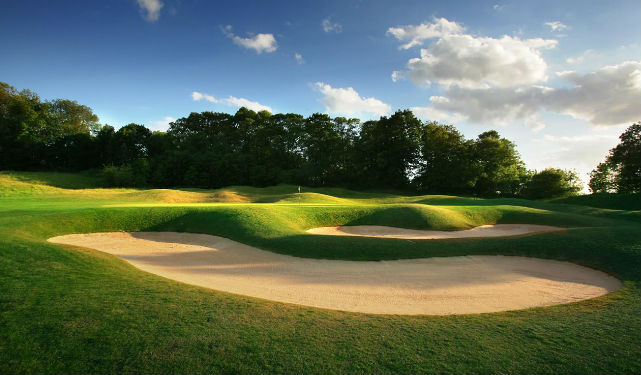 Hanbury Manor happens to be one of my all-time favourite golf courses. The hotel is a 17th century Jacobean-style country house set in 200 acres of beautiful Hertfordshire parkland, within easy reach of Stansted, Heathrow, Luton and Gatwick airports, London and Cambridge. The manor house began life as a home to the Hanbury family and later became a Roman Catholic boarding school known as Poles Convent.
The golf course is a collaboration of past and present. It was the first to be designed by Jack Nicklaus Jr and incorporates features from an earlier nine-hole course designed by the great Harry Vardon.

The course is now widely regarded as being one of the best in England, with each hole offering a different challenge. Hanbury Manor provides an exciting experience for golfers of all skill levels. From the championship tees, it measures 7,052 yards and the greens are fantastic.
BREADSALL PRIORY - THE PRIORY AND THE MOORLAND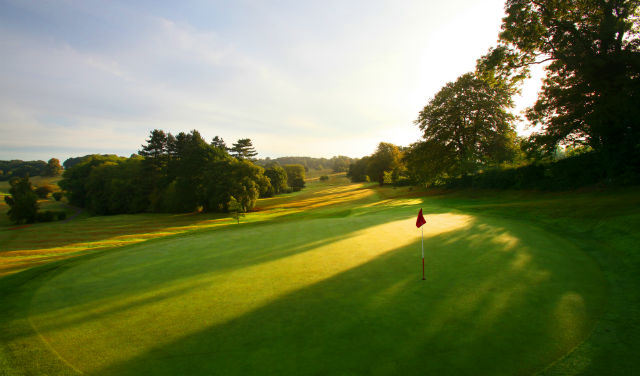 Standing in more than 400 acres of parkland, near the Peak District National Park, Breadsall Priory offers two contrasting 18-hole courses with one thing in common - breathtaking surroundings.
The two courses are The Priory and The Moorland, which welcome members and visitors alike.
The Priory was designed by David Cox and opened in 1977. It may only measure 6,120 yards from the medal tees, but that should fool nobody. Accuracy is at a premium on this tight and tree-lined layout. There are several outstanding holes, including the panoramic 363-yard par four 11th and the demanding 424-yard 16th. However, the signature hole is the 17th, a 183-year par three, played from an elevated tee to a generous green guarded by bunkers and a ditch to the rear.
Set on an adjacent hillside, the Moorland Course measures 6,028 yards and, yet again, offers fine views, this time of the hotel and the surrounding area. Like the Priory, this Donald Steel design features many memorable holes, including the demanding 452-yard par four second, the delightful 126-yard par three sixth and the 406-yard par four 12th, where the ideal landing area is guarded by a tree.
THE FOREST OF ARDEN - ARDEN COURSE AND AYLESFORD COURSE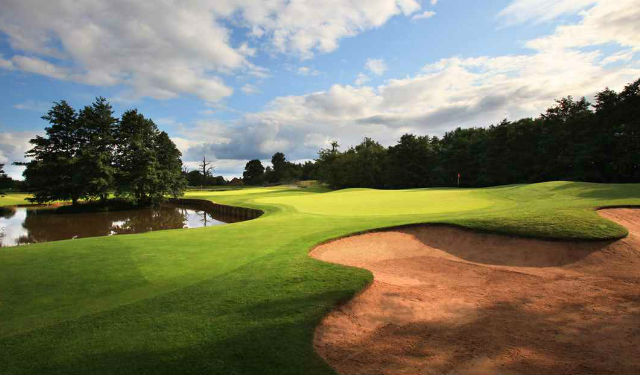 This is one of the best golf resorts in Britain. The Arden Course is magnifcent and is one of the European Tour's leading venues.
The Arden Course was designed by Donald Steel and built on Lord Aylesford's 10,000-acre estate back in the early 1970s. Since it was completed, Forest of Arden has played host to seven English Opens and five British Masters, and winners have included Colin Montgomerie, Thomas Bjorn, Darren Clarke and Robert Allenby.
It starts off with two short and relatively undemanding par fours but the course measures 7,213 yards from the championship tees and is one heck of a test. The signature hole is the par 3 18th which requires a 200-yard carry over a lake to an undulating green perched to the side of the hotel.
The Aylesford Course is considerably shorter at 5,801 yards, but everybody who plays it enjoys the experience. Once again, the premium is on accuracy and never more so than on the 482-yard par five 18th, which can be reached in two but is protected by large trees and a water hazard – it is a classic risk-and-reward hole.
HOLLINS HALL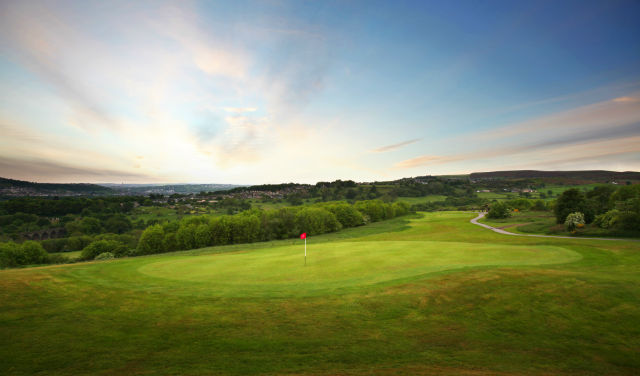 Opened in 1999, Hollins Hall is a championship course that was designed by Ross McMurray of European Golf Design. It consists of two very different nines, and features fantastic greens.
The first half is built on a high piece of land, which is open and exposed to the elements and is a proper beast when the wind blows. It enjoys views over the Aire Valley towards the Yorkshire Dales. It starts with a gentle par four but the downhill par three third and the par four sixth are outstanding holes.
The back nine is set in a picturesque valley and also has a number of standout holes, none more so than the the par-five 14th, with an undulating green sitting in the shadow of a Victorian viaduct.
LINGFIELD PARK GOLF CLUB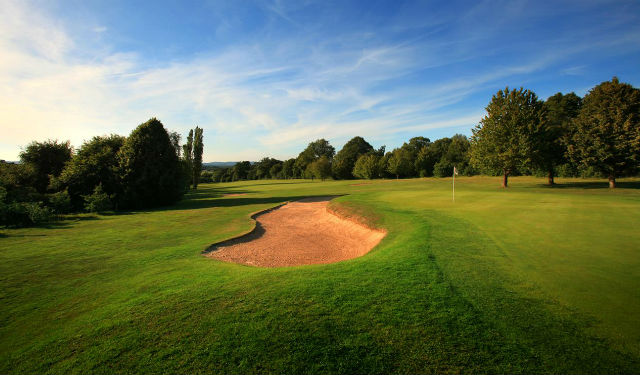 Lingfield Park Golf Park is set among 200 acres of parkland at Lingfield Park Racecourse. It was designed by Harvey Jarrett and measures 6,511 yards. It features plenty of bunkers, tree-lined fairways, streams and ponds. The course played host to the Surrey PGA Open for three consecutive years. It has built a reputation for excellent facilities, fine golf and great hospitality.
The Lingfield Park Marriott Hotel & Country Club opened in May 2010 and incorporates a new clubhouse, pro-shop, changing facilities and lounge for members and residents alike. There have been many improvements, including a new state-of-the-art academy, three putting greens, bunkers, chipping area, driving range and covered teaching bay area.
MEON VALLEY - CHAMPIONSHIP COURSE AND VALLEY COURSE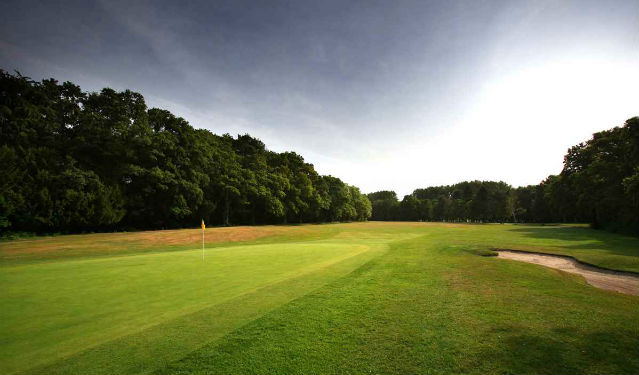 Meon Valley Hotel and Country Club features two courses designed by Hamilton J Stutt. Opened at the end of the 1970s, the Championship Course winds its way between lakes, streams and wooded areas, with a fine selection of long and short holes. What it lacks in length is more than made up for by its tight landing areas and well guarded greens.
The signature hole is the 153-yard par three 12th, which is played from an elevated tee to a green protected at the front by water - it is reminiscent of the 12th hole at Augusta. The green on the tight par four second is also difficult to hit in regulation figures, as is the dogleg par four fifth.
The Valley Course is less demanding but provides a great alternative if you don't have time to play a full 18 holes. It is built around the ruins of a Roman village and features well-protected, manicured fairways and beautifully designed greens. The signature hole is the first, a par four that measures just 339 yards but features out-of-bounds down the right and a green protected by a river at the front.
SPROWSTON MANOR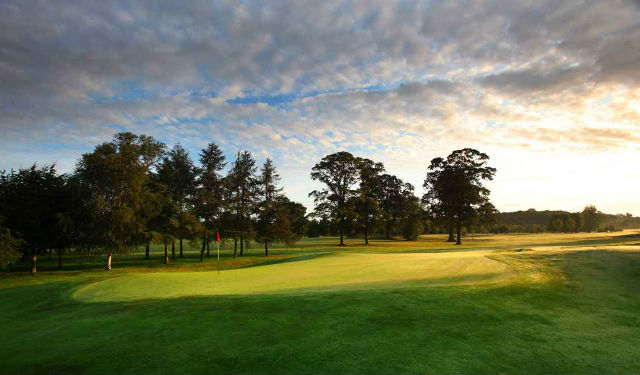 Originally built as a country retreat in the mid-16th century, Sprowston Manor, Marriott Hotel & Country Club, is one of the best golf courses in Norfolk. Sprowston Manor has been home to a golf course since the early 1980s, but it was only in 2003, when Ross McMurray of European Tour Design was brought in to give it a complete facelift, that it became a layout people started to rave about.
McMurray made the most of the mature parkland from the original 18 holes plus additional land to the rear of the hotel to create a 6,527-yard course that is not just a good test of golf but is thoroughly enjoyable at any time of year, regardless of your ability. McMurray is the man who was responsible for the 2010 course at Celtic Manor and the Marquess Course at Woburn.
The undulating course contains a number of standout holes, the pick of which has to be the signature hole, the par four seventh, featuring ponds, weirs and fountains. Another highlight is the bunkering, which is especially challenging on the 412-yard par four 15th and par four 16th, both of which can wreck a good scorecard. The finishing hole is a glorious par five measuring 558 yards.
ST PIERRE - OLD COURSE AND MATHERN COURSE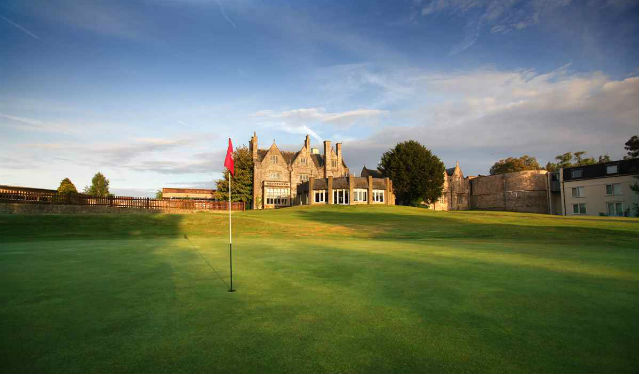 Built around a 14th century manor and an 11th century church, St Pierre is one of the finest golf courses in Britain. Period.
The hotel has been given a £1.8m facelift but it is the courses that will stick in your mind - the Old Course and the Mathern Course. The Old Course has hosted the Curtis Cup, British Masters and the Solheim Cup, and both layouts have had a £2m upgrade by Ross McMurray of European Golf Design.
The Old Course is built around an 11-acre lake and features dozens of ancient trees, including a giant 400-year-old chestnut that dominates the second hole. It is a delight to play and has one of the finest finishing holes anywhere - a 235-yard par three over water to an elevated green protected by sand.
The Mathern Course is shorter but is unrecognisable after its overhaul, which saw 18 new tees being built. Bunkers were reconstructed and repositioned and a modern irrigation system installed. Its signature hole is the 14th, which crosses two rivers.
As well as exceptional courses, there is a state-of-the-art golf academy.
TUDOR PARK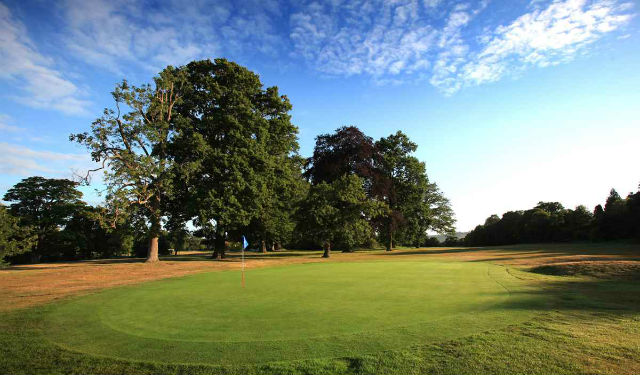 Nestling in a 200-acre deer park, Tudor Park Hotel & Country Club, offers tranquillity just an hour's drive from London.
The Tudor Park Course was designed in 1988 by Donald Steel, and it is one of his finest. It may measure only 6,085 yards but each hole is unique, providing delightful views of this part of Kent.
There is a mix of long and short holes, many featuring tight fairways bordered by beautiful, mature pines. The best are the par three fourth, the par five eighth and the par four 16th. But you should enjoy every hole at Tudor Park. A testimony to its quality is that it has hosted the EuroPro Tour on three occasions, the Kent PGA Pro-Am and the English PGA Championship (South) qualifier.
WORSLEY PARK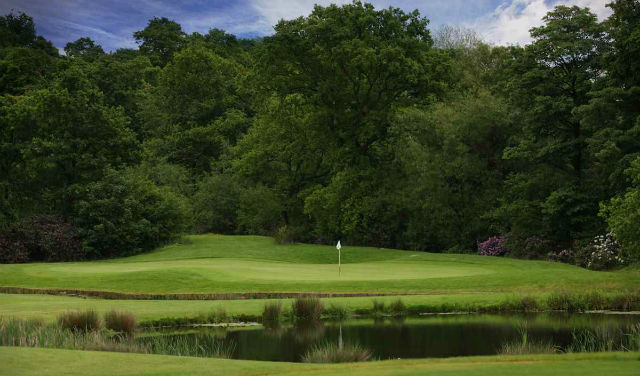 And last, but by no means least, is Worsley Park, a 6,611-yard championship course built around a Victorian building that was once home to the Duke of Bridgewater. I have stayed here too and can confirm that the surroundings and views are idyllic.
The course at Worsley Park was designed by European Golf Design in association with former Ryder Cup player Michael King, and has hosted several events on the EuroPro Tour and the Challenge Tour.
It is built around eight lakes and indigenous water features, many of which come into play. The most challenging holes include the third, eighth and 13th, while the signature 177-yard par three seventh is played over a small lake to an undulating green guarded by a brook.
The course is a classic risk-reward layout – and nowhere is this more apparent than on the short par-four 12th and 17th holes. Both are within reach of a well-struck drive, but go off line and you will pay a heavy price.
Worsley Park also has a state-of-the-art short game area with two bunkers, a 270-yard practice area and tees. It is just over six miles from Manchester city centre and 15 minutes from Manchester International Airport.
For more information on UK golf breaks at Marriott venues, please - click here
---
Related Content: Marriott
What do you think? leave your comments below (Comments)
---
Leave your comments below
comments powered by

Disqus
More Golf Course & Travel Features
Plan your next golf break with Golfbreaks.com