Coombe Wood Golf Club now thriving following tough times
By: Golf Shake | Fri 13 Feb 2015 |
Comments
---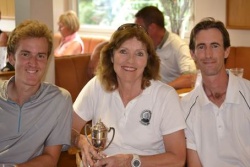 Coombe Wood Golf Club, built on Kingston Hill in Surrey, has panoramic views all the way to the North Downs. It's a sight enjoyed by members and guests since 1904, and the future is also clearly in view for the club itself. They are open for business and enjoying a resurgence in membership.

It's a testament to the new management, a hard working General Manager and not least the deep loyalty of long standing members that the club has transformed the situation it was in couple of years ago. They have pulled together and moved on. Investment is being made in the course, not least in the greens which are being hand cut and cultivated to the highest standard. A refurbishment of the clubhouse is also planned over the coming months.

General Manager Kevin Mullen, who arrived at Coombe Wood a year ago, watches the greenkeeping staff at work with obvious respect at their skill, remarking that greens are not often hand cut these days. Within the members is Roy Graham, the Chairman of Greens, who has worked tirelessly and unpaid on numerous course and building projects. This is not unusual within this club to find members helping out who have taken pride in improving the condition of their golf course to a high standard.

Kevin explains that Coombe Wood went through a challenging period when it was announced to the membership that the club was looking for a buyer. This was not received well and a number of the board members united to stop the sale. Although some members left initially when they thought the club was in trouble, what became apparent was there was a great loyalty to the club within the membership too:

"When we thought about what we could lose, it drew many of us together" said Ladies Honorary Treasurer Maureen McGowan. "We love this club, so we all pulled together".

One of the first things the new management did was to recruit Kevin as there hadn't been a General Manager there for five years. A new structure of memberships was introduced which has proved popular, quickly attracting new members to replace those who have left.

Another task was to try to improve morale. Kevin makes sure that his door is always open, and he gets out to meet members and find out how they are feeling about things. A full schedule of both fun and competitive competitions was introduced as well as a full diary of social events.

We look after our new members very well and make sure they're quickly welcomed and brought into the group" says Maureen, underlining the club's slogan on its website, that it's "The Friendliest Club in Surrey". Although its a competitive marketplace with each new member possibly considering three or four different clubs, Coombe Wood's new policy on reasonable pricing, variety of memberships to suit individuals' needs and flexibility on how members can pay has proved successful. The membership is now resurgent and above all there's an air of positivity around the club.

The clubhouse and the grounds are undergoing continual refurbishment and improvements. The club has also developed a thriving social scene, with sell out shows such as tribute acts and an opera singer from the Royal Academy of Music. Regular club nights are held to bring members together as a group. All sections of the golf membership arethriving with a busy playing schedule and tournament professionals James Heath and Joe Blake who learnt their skills at the club regularly come back to visit. All this has helped draw the members together and unify the club.

Exceptional green fee deals on Amazon Local and Tee OffTimes have been successful in bringing in visitors. Visitors have rated the course and the welcome they have received highly. In addition the club generously support local charities culminating in a sell out charity golf day, which raised over £5,000 for a children's charity. The club also work closely with a local school for children with learning difficulties,which has involved a number of the children spending time with the team at the club looking at their various job roles.

It all adds up to a club that is not standing still, it's progressing. And a club that has met its challenges full on and come through confidently, supported by some very loyal members.
What do you think? leave your comments below (Comments)
---
Leave your comments below
comments powered by

Disqus
Plan Your Next Round
Foxhills Club & Resort
Surrey
from £27.00
Save 75%
Brent Valley (Hanwell) Golf Club
Greater London
from £16.00
Save 21%
Hoebridge Golf Centre
Surrey
from £27.00
Save 37%

More Golf Course & Travel Features
Plan your next golf break with Golfbreaks.com
Travel Deals Newsletter
Save up to 50% on golf breaks & tee times!
Join Today »