Golf in Bulgaria
---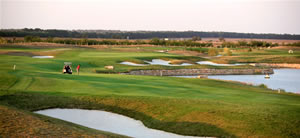 At Golfshake, we have over 20,000 course reviews and a comprehensive golf course guide that stretches across multiple continents, from Europe to Africa. Every golfer knows the merits of playing in places such as Spain or France, but there is little knowledge of some of the emerging golf destinations that look set to eclipse the traditional overseas locations. If you were to ask a selection of golfers to list 10 foreign countries associated with golf, Bulgaria would scarcely appear. In recent years, however, the Balkan state has seen large international investment in golf, with developers and course designers rightly recognising that Bulgaria possesses every ingredient required to become one of Europe's premier golfing destinations.
History of Golf in Bulgaria
It is fair to say that golf, traditionally, is not one of the most popular sports in Bulgaria. In fact, there were no golf courses in operation before the turn of the millennium, and it is easy to understand why. Whilst most people in first world countries are fortunate to have the disposable income to be able to take up the game, it is a privilege afforded to very few in Eastern Europe. Golf equipment is constrictively expensive and, as such, the game has not grown.... until recently.
New investment means new opportunities for locals, with some of the recently opened clubs possessing teaching academies and offering Bulgarian youngsters a way into the game.
So why has Bulgaria seen a significantly marked increase in golf course construction, and does it have the potential to overtake places like Spain? In twelve years, over ten golf courses have opened in the small Slavic nation; a statistic that would suggest it does.
Climate and Heritage
Bulgaria possesses a temperate, continental climate that would be considered characteristic of central Europe. The summer temperatures do not reach the blistering heights of some other European nations, but conversely, the winters are milder. Whilst snow is relatively common in the depths of winter, autumn and spring are incredibly mild and present a perfect climate for golf. What's more, Bulgaria is a country rich in cultural history with an amenable and complaisant disposition.
Scenery and Cost
The average altitude of the country is 470 metres above sea level, a realisation that has not been lost on those that have designed, and continue to design, golf courses and resorts in the region. The majority possess breathtaking views and are situated in areas with a great diversity of flora and fauna. It is both easy and cheap to reach; and cost of living is another massive draw. A nice meal will cost you less than five pounds and a bottle of beer no more than a pound. When you consider all the above, coupled with a government actively looking to promote tourism and attract investment, you realise just how popular a golfing destination Bulgaria could become.
The Courses
There latent promise has been recognised by some of the biggest names in design and architecture, from Ian Woosnam to Jack Nicklaus, who have both seen their courses officially opened in recent years. With more construction planned over the coming years, the future looks bright for golf in Bulgaria.
Around Sofia
Whilst the Bulgarian capital may not possess the charm exuded by other Eastern European cities, its catchment area offers competitively priced golf.
Air Sofia Golf Club was the first to open its doors to the public in 2000, and is located just 40km away from Sofia airport and 30km from Borovets, Bulgaria's largest ski resort.
St Sofia Golf Course, designed by Paul McGinley, followed four years later. It is a beautiful course located in the village of Ravno Pole, ten miles east of the capital and twenty minutes away from downtown Sofia. It is a superbly manicured course and was the first in Bulgaria to be officially rated. The challenging golf course is just shy of 6,800 yards, with practice facilities, an academy for players of all abilities and a colonial-style clubhouse with a terrace that offers views of the course and snow-capped mountains in the distance.
Stunning Cape Kaliakra
One of the most difficult decisions to make when coming to play golf in Bulgaria is whether to stay in the vicinity of Sofia, or travel to the Cape Kaliakra Golf Coast, less than an hour away from Varna. Set near the border of Romania and overlooking the Black Sea, it is one of the most historic, scenic and culturally significant capes in Europe.
The Cape Kaliakra Golf Coast is comprised of three five-star golf courses, two designed by Gary Player and one by Ian Woosnam. It is has more to offer than golf, with private beaches, luxury villas, historic fortresses, celebrated wildlife and the nightlife of costal Varna within easy reach.
Woosnam's second design in Bulgaria: the Lighthouse Resort set on cliffs looking out on the Black Sea, with beautiful breathtaking views of the coast one side and lush green fields the other.
The Thracian Cliffs Golf and Beach Resort was described simply and elegantly by Player: "you will not find another golf course like this on the planet." Players are both challenged and inspired by a course that is practically falling into the Black Sea. It covers 164 hectares of terrain and stretches for 4.5 kilometres along a wild coastline, providing a completely novel and invigorating golfing experience.
The resort is twinned with both the Lighthouse and Black Sea Rama Golf Resorts.
Pravets Golf Resort and Spa
Perhaps the most prestigious course in the area is Pravets Golf Resort and Spa. It was designed by esteemed architect Peter Harradine and it situated less than an hour's drive from the capital in the scenic lakeside town of Pravets. The Stara Planina mountain range is a few kilometres away, providing a picturesque backdrop to a high calibre golf course that was considered good enough to host a PGA Professional Championship of Europe event in late 2011.
Pirin Golf and Country Club
The Woosnam designed Pirin Golf and Country Club offers stern competition to any golf club claiming the to be the best within a 60 mile radius of Sofia. It is located in the spectacular Razlog-Bankso valley in the Pirin Mountains and features two golf courses. Woosnam's creation is a challenge to all golfers, and serves as a reminder of the exigent yet visually rewarding nature of golf in the mountains.
Highly regarded
The Black Sea Rama Golf Course and Resort was Player's first completed project in Eastern Europe and again sits parallel to the Black Sea. It was classed as Bulgaria's first signature championship course, and at well over 7,300 yards, it is a challenge, especially with strong prevailing winds coming in from the adjacent coastline. In 2009, it was proclaimed 'best new golf course in the world' by Golf Inc. digital magazine.
It will make you wonder why every golfer on the planet isn't running to the proverbial rooftops to declare Bulgaria as one of the most brilliantly rounded golfing locations in the world.
Recognition
The continuing investment in golf in Bulgaria is a reflection of the fact that the sector continues to grow.
On the 17th November, 2011, the International Association of Golf Tour Operators named Bulgaria as the Undiscovered Golf Destination of the Year, a tremendous honour that formally recognises all the beauty and diversity of Bulgaria as a golfing location.
With prices starting at just £145 per person with www.golfbreaks.com, the time is now, the place is Bulgaria.
More Golf Course & Travel Features
Plan your next golf break with Golfbreaks.com