Golf in Montana, USA
---
Guest feature from Golfshaker Ian Abdee on a holiday and gofling trip to Montana in the North West of the United States of America.
---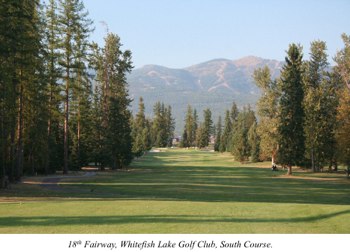 It's quite understandable why Europeans, especially us Brits, are few and far between in this remote corner of the USA. After all, Montana is not the most accessible place in the world, but once you get there the rewards are well worth the hassle.

We flew Virgin Atlantic to Los Angeles, primarily because we had a large number of those 'frequent flier' rewards to use, but then it was an overnight stay in L.A., then a two-flight hop to Kalispell, via Salt Lake City. (Since our trip non-stop routes from Chicago, Denver and other cities to Kalispell have been found but they weren't available when we travelled). There are alternate routes, but they currently all seem to involve an overnight stop at one of the 'US gateway' cities, as the 'connecting flights' don't seem to 'connect' on the day of arrival.
Majestic Montana
Kalispell is not the first place that you think of when planning a golf trip to the US, but the Flathead Valley, in northwestern Montana, is a veritable haven for golfers. There are nine courses within a 45-minute drive of one another with more beyond, and all are USPGA standard. But it's not so much the courses that command one's attention during the round; it's more likely to be the spectacular scenery that seems to distract you with every shot that you play. The valley floor is predominantly very flat and fertile, making the courses green and lush. You might be forgiven for expecting steep slopes and undulations in Big Sky Country, but that is hardly the case. There are however enough elevated tees and greens, rising ground, lakes and rivers that meander across the fairways to compete for your attention. The valley is surrounded by the mountain ranges of the Rockies which give it a kind of 'enclosed' feeling, but the backdrop when hitting your seven iron in from a pine-tree lined fairway to a perfectly manicured green is something that you usually only get to see on the July page of a golfing calendar.

Montana is the poorest state in the Union and hasn't been fully promoted as a tourist venue. There is a very strong environmentalist lobby that asserts that any large influx of tourists can only damage the natural beauty of the region. I can subscribe to this as with a population density of less than six human inhabitants to the square mile one can travel for great distances without seeing another soul. So, getting tee times on the numerous courses is no real problem. Like most of the US, food and accommodation is cheap by our standards. Couple this with the price of gasoline, the very reasonable green fees and the underused courses and you have a recipe for a wall-to-wall golfing paradise.
Whitefish Golf Club
We based ourselves at the Grouse Mountain Lodge Hotel in Whitefish, a fifteen-minute drive from Glacier International Airport, Kalispell. It adjoins the Whitefish Golf Club with its two championship courses, driving range, practice putting green, excellent restaurant and other top class facilities. The hotel, partially screened by the trees, stretches alongside part of the 18th fairway on the south course as far as the green. I really enjoyed playing this course, as it was not so difficult so as to dishearten the high handicapper (I'm off 20), but challenging enough to demand some use of the 'old grey matter' to post an acceptable total. There is a telephone on the 9th tee that connects you to the halfway house so that your pre-ordered food and refreshments await as you putt out. The north course was flatter and more like your traditional parkland course, but the scenery even more appealing to the eye. The clubhouse overlooks the 18th green. Whilst driving off the 8th tee the heavens opened up. I am not so hooked on the game that I will play in all weathers, but after playing the 8th and 9th through the heavy rain I decided to call it a day. I was promptly refunded half of my green fee and half of my buggy hire, which softened the disappointment of not completing the full 18, a task that I managed a couple of days later.

To begin with we found the local populace a little wary of us Brits. Not seeing too many visitors makes them appear somewhat shy when compared to Floridians, Californians or New Yorkers, but they soon overcome their perceived inhibitions once they realise that we were there just to enjoy their hospitality and contribute towards their somewhat beleaguered economy. We discovered that it was not just us that they were cautious of, but of visitors in general. Americans from the more affluent States were buying up property as holiday homes and it's easy to see why. There was some obvious resentment amongst the locals that the 'Out of State' Americans came into the region with more money than Montanans could ever hope to have, for the purpose of exploiting their cheap prices and to enjoy the Montana way of life. This of course, was pushing property prices out of the reach of the local populace. I played several rounds of golf alone, with the wife driving the buggy and the camera, but found that being paired up with a 'local' made for far more interesting conversation (sorry Stella), once you got them talking.
Glacier National Park and Glacier View Golf Club
Between rounds there is so much else to do and to see. It is only a short drive to Glacier National Park with its towering peaks, majestic lakes, spectacular views and warning signs to hikers about the grizzlies. Fortunately, bears are for the most part sensible enough to keep well clear of civilisation. The Park even has its own golf course, the Glacier View Golf Club, with its private drive leading in from the park entrance.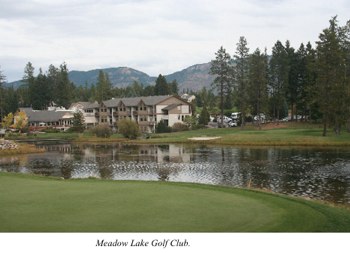 A few miles back down the road is the Meadow Lake Golf Club. We stopped there to enjoy an excellent lunch on our way back from visiting the souvenir shop in the park and saw no one on the course. Not wishing to see a perfectly good golf course going unused, and just happening to have my golf gear in the back of the hired 4x4, I asked the chap in the pro-shop what the chances were of a quick 18 holes. "Go off when you like. That's $53 including the buggy". It was a wonderful experience! Playing at your own pace with no-one in front to hold you up and no-one behind pushing you on gave us ample time to stand gaping at the scenery and snapping off with the camera. We still got round in about three hours, just in time to 'hold court' back in the club-house bar, with the locals trying to explain to me the vagrancies of American football whilst wanting me to explain to them the intricacies of cricket.

A few dozen miles further on is the former gold mining town of Garnet, now a ghost town and a tourist attraction. A short hop in the opposite direction is the Canadian border, if you fancy getting another stamp in your passport. Every journey seems to reveal a new breathtaking vista; a raging river, a serene lake or a dramatic snow-topped mountain range.

For the more energetic there is white-water rafting, hiking, trail riding, sailing and canoeing. For me, well I must just be getting old. The wife's gone back into the pro-shop for yet another rummage through the ladies' clothing section, so I think I'll just sit back with my beer and watch some other golfers putt out, whilst soaking up the splendour of this peaceful, unspoiled wilderness. Yes, I might just come back here again some day.


Ian Abdee.
More Golf Course & Travel Features
Plan your next golf break with Golfbreaks.com