The Ravishing Ritz-Carlton Abama
By: Liam Moore | Mon 21 Feb 2022 |
Comments
---
International golfing trips are desirable for a plethora of reasons, with the rich and welcoming climate typically at the top of that long list.
Yes, we want world-class golf courses that are maintained meticulously; it's important that the local area is brimmed with entertainment such as restaurants and bars.
However, without the all important warm weather, the viability of the golfing getaway diminishes.
Fortunately, several European countries can boast a tremendous climate, which is why we see so many British golfers escape their gloomy weather on a frequent basis.
Spain has long been a popular hub for international golfers and through the wide array of golfing resorts and complexes, the country is a haven for golf fanatics.
Tenerife is the largest island of the Canary Islands and the importance placed on golf is what entices visitors annually.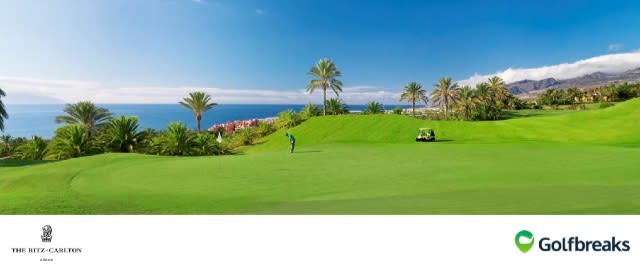 In total, there are nine golf courses that reside on the island but we're going to talk about Ritz-Carlton Abama, a stupendous 5* resort with golf at the forefront of their service.
The luxurious resort is set on a cliff-top that overlooks the Atlantic Ocean and with 459 rooms at their disposal - in addition to 10 restaurants - this is one of the biggest complexes in Spain.
The Ritz-Carlton resides on the west coast of Tenerife, in Guia de lsora, and it is approximately a 25-minute car journey from Tenerife South Airport.
Golf
Many resorts boast two or even more 18-hole loops but Ritz-Carlton Abama has opted for just the singular layout, which has received widespread acclaim.
It is also a direct argument of quantity over quality, as this expertly constructed golf course is the epitome of golfing on the island.
Dave Thomas is the architect of this fabulous golf course, and the par-72, 6,815-yard layout provides a hefty challenge, regardless of ability.
Littered with magnificent water features, every corner of the layout exudes natural beauty as expansive views across the Atlantic Ocean and the Island of La Gomera are present.
In total, there are over 25,000 trees that have been planted and 22 lakes for golfers to avoid at all costs.
Due to the set-up of the layout, it is essential you pack your thinking cap as this winding route will test the shot-making capabilities of every golfer.
Additionally, a genuine tactical plan will need to be formulated, as the aforementioned 22 water hazards are easily located.
A true standout are the dramatic elevation changes, with the lowest point 78 metres above sea-level and the highest a whopping 315 metres - which is at the 5th hole.
Four tee markers will encourage all types of abilities and whilst the golf may be challenging, the beautiful environment that Abama Golf Course sits on softens the sting from any erratic round.
Additional features also include a clubhouse with changing facilities and a fully-stacked pro shop.
The Dave Thomas golf course is located only a 5-minute drive from the resort and with numerous other hubs such as Costa Adeje Golf (15 minutes), Golf Las Americas (15 minutes), Golf Del Sur (25 minutes) and Amarilla Golf (25 minutes) all accessible easily, it's recommended you turn your holiday into a golf tour.
Accommodation
With 459 rooms available, it's safe to assume that Ritz-Carlton Abama can accommodate a whole range of excitable golfers.
The course matches the resort's 5* rating and so do the rooms and other activities, with many spaces offering panoramic views of the Atlantic Ocean.
You can choose from a Deluxe Room within the hotel or a Junior Suite, One Bedroom Suite, The Ritz-Carlton Suite, Royal Suite and Imperial Suite.
Villas are also available for hiring, and they feature a Deluxe Room, One Bedroom Suite, Deluxe Room Villa or a One Bedroom Suite Villa.
Gastronomy
Considering there are 459 rooms for hiring, it's important the gastronomy options are rich and healthy.
There are 10 eateries in total, all offering something different from the previous, and the M.B. restaurant recently acquired its second Michelin Star in 2014, promoting it to one of the finest restaurants on the island.
M.B. specialises in Spanish cuisine and its lavish setting provides the perfect environment for an evening of unwinding and experimenting.
Kabuki also boasts a Michelin Star and it operates as the hotel's Japanese restaurant, decorated in red and white.
Two other notable restaurants that are located on-site are El Mirador and Verona, with the former specialising in seafood and the latter a traditional Italian.
The Beach Club is unsurprisingly located on the beach facing La Gomera, and its fine menu is an ideal place to enjoy lunch.
If you're seeking an extra element of class then why not visit the Lobby Bar? Residents of the hotel can enjoy live piano music and sample one of many cocktails - which can be enjoyed on the open terrace.
Spa & Leisure
As a consequence of its size and popularity, there are many activities that can be enjoyed away from the golf course.
The resort's spa offers a wide range of restorative and transformative treatments that have been inspired by Earth's naturality.
Guests can experience Roman bathing, which have been designed to stimulate the body's metabolism and restore peaceful feelings.
The Fitness Center is stacked with the latest gym equipment, helping you to track your cardio levels or even squeeze in a weight-lifting session or two.
It is also possible to book a spinning session on the outdoor terrace, although these will need to be reserved prior to the session.
Tennis courts are also present on-site, whilst the complex also provides jogging and hiking trails as it encourages wellness from every aspect.
Surrounding Area
In total, there are nine golf courses on the island of Tenerife, with several within a 30-miunte drive from the hotel.
Additional activities include taking a guided jeep or helicopter tour, witnessing whales and dolphins in their natural habitat or participating in one of the many water sports that take place every day.
When deciding on your next resort-based golfing trip, it's important the local community is vibrant and there is plenty of entertainment away from the golf course.
In Tenerife, an island that has prided itself on tourism, leisure endeavours are around every corner.
Furthermore, a trip to Ritz-Carlton Abama can also act as a golf tour thanks to the excellent local transport links and close proximity to many facilities.
If you would like more information or to peruse available bookings, then you can check out Golfbreaks.
---
Related Content: Tenerife Spain golfbreaks
What do you think? leave your comments below (Comments)
---
Leave your comments below
comments powered by

Disqus
Plan Your Next Round
Ardglass Golf Club
County Down
from £22.00
Save 50%
Castlerock Golf Club
County Londonderry
Galgorm Castle Golf Club
County Antrim
from £13.00
Save 23%
More Golf Course & Travel Features
Plan your next golf break with Golfbreaks.com