Dos and Donts on a Golf Break
By: Golfshake Editor | Fri 27 Apr 2018
---
ANYBODY who either goes on a golf break or is the person responsible for organising it, wants it go off without a hitch. You want everybody to have fun, enjoy the golf, eat tasty food, enjoy some excellent beer and even have a comfortable night's sleep (however short that may be). You want to know that everybody who went with you will be talking about it for weeks to come and will immediately be asking when the next one is.

There are some simple rules to follow to ensure that everybody leaves the resort happy, looking forward to more. Here, we offer you a few handy do's and don'ts. They may seem like common sense, but you would be surprised how many people don't follow them.

Don't drink too much. It stands to reason that if you are going away for a golf break with your mates then alcohol is going to play some part in your break. If it is hot, put bottles of water into your golf bag, not bottles of beer. And remember that when you feel thirsty it means you are already dehydrated. The chances are that the person who has organised your break will set up a drinks kitty, and he or she should set down some ground rules. Everybody wants to have a good time, but you don't want to end up remembering your trip for the wrong reasons.
---
---
It may seem obvious, but think twice about booking your trip in the UK for December and January – yes, you will probably find that you get some incredible deals, but there is a very good reason for that. The chances are that the weather is not going to be on your side. You may face frost, or even snow; you will almost certainly find yourself battling through cold and rain – and have to putt on temporary greens. And, of course, if you get there and find that the weather prevents you from playing, you will not get your money back. And how will you fill in your time?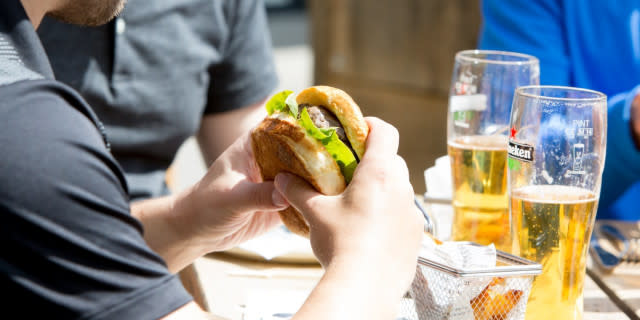 Don't always book your break direct through the course. It may surprise you to learn that it is often cheaper to book through an organisation such as Golfbreaks.com. The other thing to bear in mind is that it is in the interests of these companies to ensure that you have a good experience. They do their research and will only send you to courses and hotels that provide good value for money, decent courses, good food and drink and comfortable accommodation.

Do some research. If you are heading for a venue you haven't been to before, check out reviews from others who have played and stayed there. It is a fact that in this country we do tend to often accept second-best – if golfers take the time and trouble to complain about the quality of the course then it is probably somewhere to avoid. You are spending your hard-earned money and you want to know that the venue actually appreciates your custom.

Don't head for a course that is going to be too difficult for your group. We all want to play the very best courses but if most of your party are high-handicappers then heading to somewhere like Carnoustie is not going to be an especially enjoyable experience. Get online and check out the course in advance. How long is it? Is there lots of water? Are there hundreds of bunkers?

The course may try to encourage you to take a series of early tee-times on your second morning. Remember that everybody will have had a good time the night before. If you agree to a block booking with the first group heading off at 7.30am, the chances are that you will end up having to knock on hotel doors to rouse some of your party – and most of them will miss their breakfast. In other words, don't agree to anything that involves you having to start before 10am.


Do think long and hard about where the venue is and how long it is going to take your party to get there. You will be given tee times and if you are late getting there the chances are that you will not be able to get on the course.

Don't always go for the cheapest option – if it is cheap, there is usually a reason. No matter what the standards of your party, you want to feel that you have played a decent golf course. And you also want a good meal and a comfortable room. Yes, you won't be spending much time in the room, but it needs to be clean and the bed needs to be comfortable.
---
---
Do give everybody plenty of time to hit some balls on the range before they tee off. There will be some of your party who will be nervous about standing on a tee being watched by other people, so get them at the venue early enough for them to go and hit and a few golf balls before heading to the first tee.
Do gather around the 18th green and cheer everybody in. Golf breaks are meant to be fun so get the banter going as everybody finishes their round – it will also give you plenty to talk about when you head to the bar for your first drink.

Do think about your running order – there will always be somebody in your group who is, erm, slower than the rest. When you are arranging who plays with whom and what time they are starting, it may not be best idea you ever had to put the slowest player(s) in the first group off the tee. Remember, too, that there will be other players on the course apart from your group, so tell everybody to keep an eye on their pace of play and wave quicker players through.
And finally, count them all out and count them all in. If there are, say, 16 of you, make sure that all 16 make it to breakfast, that all 16 make it to the first tee, that all 16 make it back to the clubhouse and that all 16 leave the venue in one piece!
---
---
---
Related Content: golf travel guide
More Golf Course & Travel Features
Plan your next golf break with Golfbreaks.com
Travel Deals Newsletter
Save up to 50% on golf breaks & tee times!
Join Today »