Review: De Vere Wychwood Park
---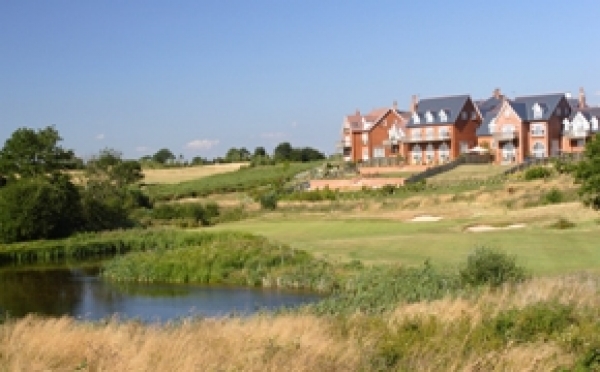 Situated on the Cheshire Plains near Crewe, Wychwood park is a relatively new course that opened in 2002 that has exploded onto the golfing map and has already hosted two successful Euro Pro Tour events. Just 5 minutes from junction 16 of the M6, Wychwood Park Golf Club enjoys stunning views of the Cheshire countryside in a location accessible to both the North and South.

The superb 6,722 yard par 72 championship course at Wychwood Park has been constructed to European PGA Tour standards and features a fully computerised irrigation system; the superb tees and large greens are also constructed to USGA specifications. Described by many as a real new gem it is beginning to mature into a real championship classic, leaving many critics singing its praises despite its relative youth. The course also features numerous lakes, streams and bunkers, making it one of the most picturesque new courses in the UK & Ireland.

From the moment you arrive you know you are in for a real treat with the impressive new clubhouse and hotel complex and the friendly greeting from the golf club staff. The Pros at the club at more than happy to give any new visitors to the venue a quick overview of this new course and we certainly needed it on our recent visit on a warm but windy September morning!
As you would expect from a leading venue in the De Vere chain of golf courses the facilities are very good with a well stocked pro shop, putting area, excellent short game are and driving range. The course is also set-up with 5 tees including green which is in between red and yellow and aimed at society and corporate days.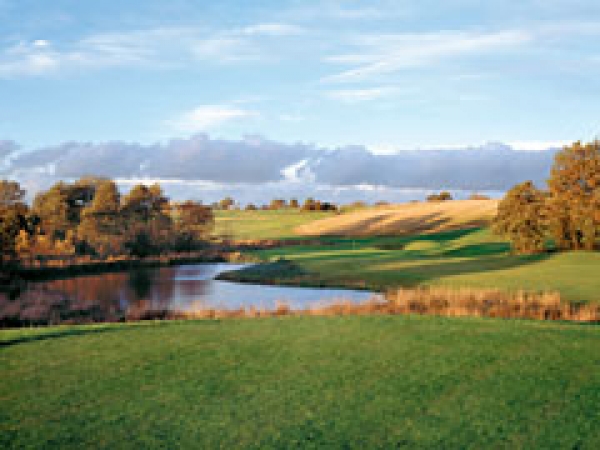 Described by some as a tough golf course the Pro would more happily describe as a good challenging golf course that gets you to think your way around. On our visit this was definitely our impression as soon as we teed off on the par 5 1st. With the wind behind you have the opportunity to hit a good shot down the 1st fairway making a brow around 220 yards away and taking advantage of a good 30-40 yards run, this then leaving a makable 2nd shot to the green. Straight away your decision it not an easy one with bunkers approaching the green and the green guarded by 2 bunkers and some devilish rough.
As you work your way around the course and the beautiful landscape, with some areas protected nature areas, you get a real feel that this course as been carefully laid out and thought about.
When we visited the wind was blowing and with the course slightly open this adds to the mental challenge of taking on this course which is arguably an inland linkequese style course and by the time you reach the 7th this becomes more so. The par 5 7th requires a very good tee shot, with the wind blowing, to carry 200 yards of heathland, which is all out of bounds, before working your way up the fairway where the green is protected by 4 tough pot bunkers.
This course is well laid out and makes good use of the space available ensuring none of the holes run too close together, although this does mean minor walks from green to tee but we easily still meandered around in under 4 hours so did not add to our time.
The front and back 9s are very consistent in terms of layout, challenge and greens but subtly different yet hard to describe. Once on the back 9 the challenge doesn't change with each hole requiring decisions and this is definitely not a course to just bang your driver off the tee. The 10th is a short par 4 or 320 yards but standing 220 yards in the middle of the fairway is a large oak tree. Similarly on the 12th you are presented with an exceptionally wide 70 yard fairway but still you are pushed to the 2 large right hand bunkers.
When you finally arrive on the 18th you are presented with a slight uphill fairway with out of bounds to the right, water to the left and a bunker and tree in the middle of the fairway. Again club selection is key to set you up for the 18th green which is positioned directly in front of the middle of the club house where you will find many a golfer stop to watch on the terrace or overlooking from the balcony of the Wychwood Suite used for functions.
For the connoisseurs out there this course is definitely a 'golf course' and not a place to just hit up and down fairways. It's a thoroughly enjoyable course and somewhere we can't wait to get back and play and next time slightly differently!
For those traveling further a field or interested in making a break of it then the in-site hotel offers 108 Bedrooms and leisure facilities including a Gymnasium, Jacuzzi, Sauna and Steam Room and great deals can be had by enquiring online with Golfbreaks.com
Course review
Would highly recommend this course to anyone and we will definitely be going back! Stunning course, stunning hotel, stunning scenery!

A five star golf course in Cheshire. this course is laid out like a links course it has plenty of hazards water and long rough a great challenge played it twice now and we will be going back again.

Where do i start?! This is not for the faint hearted or anyone after an easy game, the course is long and any wayward shots are punished. Fromm the tee boxes through to the greens - everything is what you would expect from a course of this quality!!
read more golf course reviews online at golfshake.com
Plan Your Next Round
De Vere Carden Park
Cheshire
MacDonald Portal Hotel, Golf & Spa
Cheshire
Vale Royal Abbey Golf Club
Cheshire
More Golf Course & Travel Features
Plan your next golf break with Golfbreaks.com