Son Gual Golf Feature Review
By: Andrew Picken | Thu 17 Aug 2017
---
Son Gual Golf Course is located close to Palma airport, making it an ideal venue to be played on arrival or on the final day of a trip to the island. It is geared up to accommodate precisely that, with excellent shower and changing facilities for those playing before catching a flight home.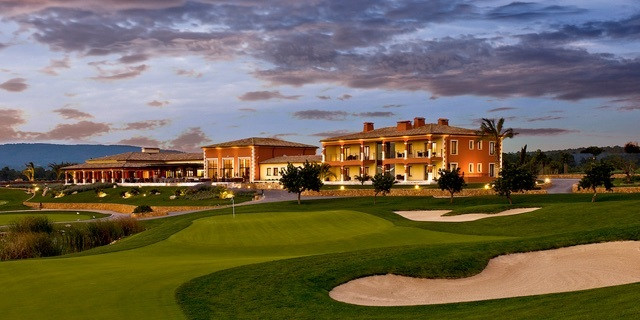 The airport is only a 20-minute taxi ride from the centre of Palma, which gives you a clue to how close Son Gual is to the vibrant nightlife, and huge selection of bars and restaurants.
Be aware that there are automatic speed cameras on the roads leading to the airport and area at the airport for the return of hire cars so give yourself plenty of time for the journey.
The practice facilities and clubhouse are superb, as is the food, and if you want to hire clubs there are several sets of premium clubs available, all in excellent condition. The only issue is that you need to get used to the low-flying aircraft that pass overhead every 90 seconds or so.
History
Son Gual features a wonderful palatial building beside the 15th green that has not yet been fully developed. The land was originally bought by a stone mason, Miquel Frau, after he won the lottery. He built his dream home, which was later passed on to his son, Juan.
The land was eventually bought by Adam Pamer, who used the money he made from a double glazing business to turn it into the outstanding golf course it is today. Three-time German amateur champion and course designer Thomas Himmel helped Pamer to realise his dream.
He has produced a golfing work of art, with two loops of nine that fit easily into the 156 hectares to create a natural-looking, spectacular course.
There are a collection of large lakes, primarily constructed as reservoirs, 66 bunkers, 800 olive trees. To ensure a balanced ecology, a special mix of wild flowers were also sown in the rough areas. Vineyards have also been incorporated into the course extremities.
The Course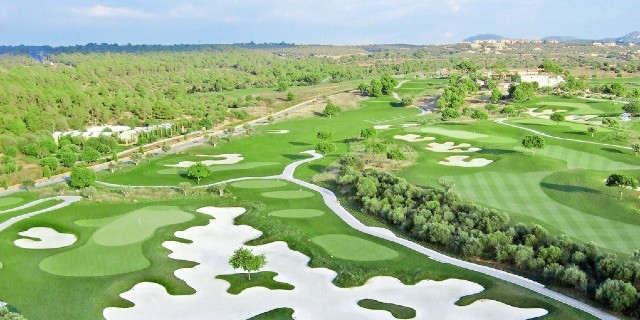 The course looks pretty daunting but there are six different tee options and it is easy to select one that provides a sensible challenge to whatever skill level. The championship tees provide a course that measures 7,240 yards, falling to 5,425 yards from the reds. Given some of the carries, I would advise a maximum handicap of 36 before venturing on this track. There is a helpful guide on the rear of the course planner with suggested handicap limits for each colour of tee.
The seventh hole, at 459 yards, is the most difficult on the course. It is a dogleg right that works its way uphill. The fairway is pinched at the limits of your driving distance by coarse rough on the left and four bunkers on the right. If you manage to avoid all the trouble the fairway swings around to the right and continues upwards until you reach the green.
To play this course well requires a strategic approach. Unfortunately my game wasn't on and I found several lefts and rights when straight drives were required. It is a measure of this venue that I still thoroughly enjoyed the round despite my poor play.
It is a visual treat with most hazards being visually intimidating from the tee. I like this. It allows a definite decision to be made by the golfer. Sand or water is visible on every hole bar the eighth and 11th.
I really liked the eighth as the fairway definition and tree positions give a clear idea of where to play.
Water plays a part on four of the first nine golf holes. The two par-fives are both just about reachable but the fourth requires an accurate fairway-wood approach.
At the sixth it is easy to try to cut off too much from the tee. Nevertheless, it is great fun trying. There is out of bounds on the right and water in front, requiring a carry of 230 yards to reach dry land. Instinctively I swopped my tee ball for an older one and nailed it towards dry land. Why is it that the new balls never take the same flight path?
Most of the greens are cleverly positioned to encourage a range of different shot-making options and there are generous and beautifully manicured aprons. The size of these aprons allows a larger range of options in shot making and I found I was putting with some success from much longer distances than I would usually try.
The ninth hole is a superb long par three over more water, with the clubhouse and terrace framing the green.
The back nine follows a similar theme, with intelligent routing offering a variety of choices for both tee shots and approaches. Par fives and shorter par-fours tantalise and tempt until the round gently builds up ito a terrific finish. The 15th is an excellent par three, played out in front of the old farm house.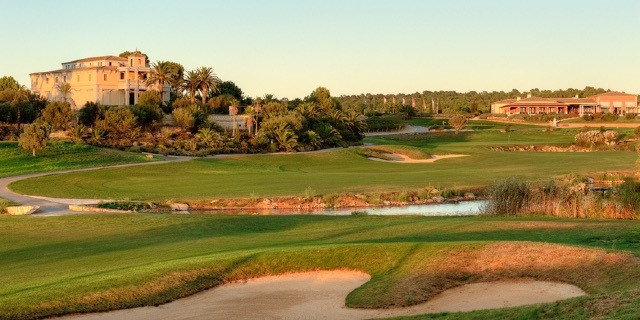 And then there is the 18th. A stream will catch anything hooked off the tee, and the same stretch of water will do likewise with anything pushed with the second or third (or even fourth!) shots. It is an outstanding finishing hole, with a beautiful, and tough green. Don't be surprised to see a large gallery of golfers watching you finish your round. Par here is a real achievement!
Conclusion
This is a premium venue offering the highest standards for the discerning golfer. I thoroughly enjoyed the experience and challenge it offered. When I next visit the beautiful island of Mallorca I will revisit as this course is good enough to be played again and again without boredom.
There is massive under capacity with the hotels and golf courses outside the school holiday season and I envisage Mallorca becoming a very popular area for UK golfers. It is an easy venue to access and quality venues like this and Alcanada make the trip very appealing and viable economically.
Related: Mallora golf trip feature and review of Club de Golf Alcanada
Monarch, the scheduled leisure airline, operates year round flights to Majorca from Birmingham, London Gatwick, London Luton, Leeds Bradford and Manchester airports with fares, including taxes, starting from £39 one way (£72 return)
For further information or to book Monarch flights and Monarch Holidays, visit www.monarch.co.uk
---
Related Content:
More Golf Course & Travel Features
Plan your next golf break with Golfbreaks.com