Round Recorder - Stat Tracker
Buy 10, 25 or 50 cards (UK only) includes P&P

End of season offer: 20 cards only £4.99

---

Golf Stat Targets

Low Handicapper (< 10)

Fairways in regulation
Greens in regulation
Putts
Score

Mid Handicapper (10-19)

Fairways in regulation
Greens in regulation
Putts
Score

High Handicapper (20+)

Fairways in regulation
Greens in regulation
Putts
Score


> 70%
> 60%
< 32
< 80



> 60%
> 50%
< 34
< 90



> 50%
> 40%
< 36
< 100
Filling in the round recorder stats card is simple, taking seconds after each hole.
Our analysis shows that those tracking their scores over a year see on average a 3 shot drop in their handicap.
We've been tracking scores online for 10 years and with over 1 million rounds tracked the stats on the right show the average benchmark based on golf ability and handicap levels.
How to track your rounds and stats
Simple tracking example and definition
You can either choose to record simple stats such as fairway hit in regulation, green hit in regulation, number of putts, penalities and whether you hit a bunker and recorded a sand save.
The following definitions apply:
FIR: FAIRWAY IN REGULATION - Hit/missed off the tee

GIR: GREEN IN REGULATION - Within 1 shot on a Par 3, 1/2 shots Par 4, 1/2/3 Par 5

PUTTS: NUMBER OF PUTTS

PENS: PENALTY SHOTS

GSB/SS: GREENSIDE BUNKER & SAND SAVE - Bunker hit & Sand Saved if up and down with 1 putt
To record simple mark x or tick for FIR, GIR and Bunkers and numbers for putts or penalties:
Advanced tracking example and definition
For advanced tracking use optional direction arrows for FIR/GIR plus additional options such as driving distance, club used, chip/pitch success within 60 yards and 1st putt distance.
The following definitions apply:
FIR: Hit/missed off the tee with direction tracking

GIR: Within 1 shot on a Par 3, 1/2 shots Par 4, 1/2/3 Par 5 with direction tracking

CHIP/P: CHIP/PITCH WITHIN 100 or 60 YARDS (personal choice) & 1 PUTT

DD: DRIVING DISTANCE OFF TEE & CLUB USED

1ST PD: ESTIMATED 1ST PUTT DISTANCE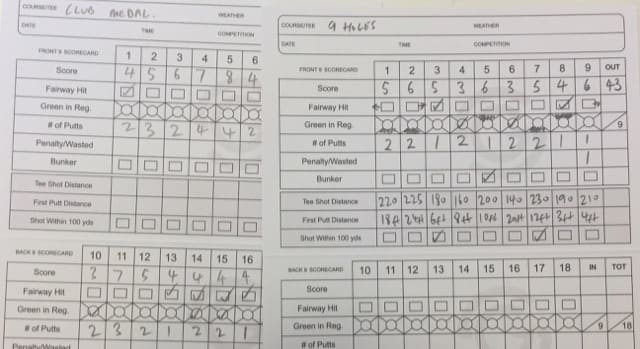 For examples of using the visual shot tracker click here