Golf in Florida Naples
By: Golf Shake | Wed 29 Jul 2015 |
Comments
---
We take a look at Naples a part of the Sunshine State of Florida which is unfimliar to some, but has a huge amount to offer golfers. Here is why we think Naples should be next on your golf holiday list:
Great climate
You can visit Florida at just about any time of year and be sure of super weather. I spent 10 days there at the beginning of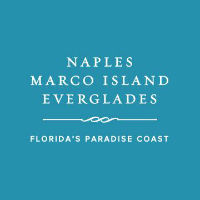 January and we were able to sit outside at 11pm and gaze up at the stars. It can get a bit chilly early in the year, but this is rare. In fact, I played with a local on a morning that could be described as cool and he played in shorts because "I don't possess a pair of golf trousers with long legs as there is no need to ever use them in Florida". In July and August it can get get very humid in this part of the world - you walk out of an air-conditioned building and as soon you step outside it is like you have walked through a hot shower. And there is also the small matter of hurricane season although, as I was told, it is at least 10 years since a proper hurricane hit land in Florida.

In a nutshell then, it's known as the Sunshine State for a reason. And if you do decide to spend any time here, you simply must visit some of the outstanding beaches.
Stunning golf courses
The area boasts some stunning golf courses, designed by the likes of Jack Nicklaus, Gary Player, Arnold Palmer, Robert Trent Jones and Arthur Hills. You have got to try Tiburon Golf Club on the Ritz-Carlton site - it hosts the annual Franklin Templeton Shootout. The tournament is staged at the Gold Course. Public and member play rotates daily between the two, so call ahead for the schedule. Both layouts are similar. They play hard and firm and have no rough but feature vast waste bunkers which are lying in wait to swallow up wayward drives. The Gold Course measures 7,271 yards and has elevated greens surrounded by collection areas. Tough par fours complete each nine.
---
Ritz Carlton Tiburon Golf Club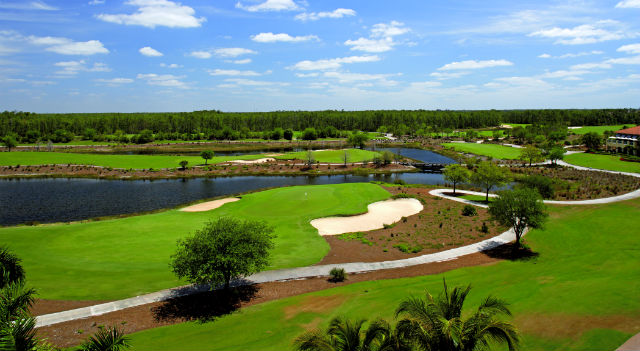 ---
The Black Course is shorter, but tougher. It measures 6,949 yards and many drives have to be steered through alleys of trees onto fairways guarded by water on either side. The par-five ninth is a real test, with lots of water and bunkers and it is immediately followed by a par three that calls for a long carry over water.

The Old Corkscrew Golf Club, designed by Jack Nicklaus, is halfway between Fort Myers and Naples and just might be the most beautiful course in the area, as well as the most difficult. It is set in 275 acres of scrub trees, wetlands and waste bunkers. Environmental restrictions helped the 7,393-yard course, which is managed by KemperSports, earn status as a Certified Audubon International Silver Signature Sanctuary. Old Corkscrew is one of the hardest golf courses in the US, with ponds and lakes waiting to devour wayward approach shots, so if you want to test your game, this is the place to do it.
TPC Treviso Bay is a former private club bordering the 110,000-acre Rookery Bay National Estuarine Reserve, and it was opened to the public in 2011. The 7,367-yard layout, designed by Arthur Hills and Hal Sutton, hosted the Champions Tour's ACE Group Classic in 2009. There is a lot of water, coming into play at the 11th, 12th and 18th holes in particular.
If you stay at the Waldorf Astoria Naples, you will be able to sample the delights of Naples Grande Golf Club. It meanders through pines and cypress trees and is so busy from January to April that players tee off on both nines to keep things moving. The first five holes serve as a warm-up for a course that becomes more difficult as the round progresses. Water then comes into play as you reach the middle of the round, with a carry off the tee at the par-five ninth. The par-five 16th hole runs along a 30-acre lake, ending at a green perched on top of rocks. And the 18th requires a blind tee shot over a ridge, setting up a daunting approach to that final green snug against the lake.
---
Grand Beach Golf Cub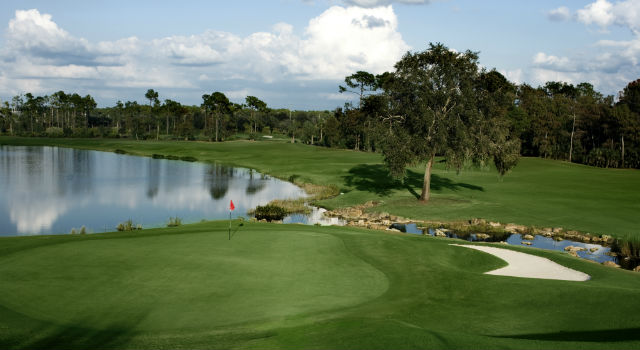 ---
The 18-hole Wilderness Country Club is a par 71, measuring 6,652 yards. Designed by Arthur Hills, it opened in 1974. Heritage Bay boasts three public courses. Imperial has two courses - the West and the East. The West is a par 72 designed by Ward Northrup. Dog-legs and water hazards are prominent features with accuracy from the tee and to the well-bunkered greens the key to a good score. The East course is another par 72, designed by Arthur Hills. It features wide fairways and the choice of playing its full length of 7,014 yards from the back tees, all the way down to the forward tees, from which it measures just 4,932 yards.
Great places to stay
LaPlaya Golf Club, the Ritz-Carlton Golf Resort and the Naples Beach Hotel and Golf Club have everything you could possibly want. Apart from the golf courses, they offer superb accommodation for families and couples, with all the amenities you would expect, including quality food, swimming pools and comfortable rooms. There are many five-star hotels in the area.
Plenty to do
Perched on the Gulf of Mexico in southwest Florida, Naples is well known for its high-end shopping, world-class culture and sophisticated dining. It's also a family destination that won't cost you a fortune. Fifth Avenue South and Third Street South are the focal points for Naples shopping in the historic downtown area, with art galleries, clothing boutiques and home decor shops. When it comes time for lunch or drinks and dinner, enjoy your meal with a water view, whether you choose a beachfront resort or a bayside bar. The white, sandy beaches are perfect for sun worshippers and swimmers alike.

If you enjoy shopping, you will love the Waterside Shops complex. There are fountains, sculptures and the scent of flowering tropical plants, and that's before you think about the boutique shops of Tiffany & Co., Burberry, Louis Vuitton, Gucci and more. Palm trees guard the entry to many shops and crystal cubes beam a colorful solar system pattern from their perch in one of five fountains. A hand-laid stone wall curves through the centre and a series of glass-lined bridges carry shoppers to the stores. Seating areas allow you to relax and enjoy the sun as well as the shopping and dining experience. Twilight turns on towering lights to shine leafy vine-like patterns everywhere. The dramatic look to the architecture, landscaping and water activity in the evenings serves as an ideal backdrop for continued dining and shopping.
Lots to see
The wildlife in Naples is amazing. You will see eagles, ospreys, pelicans and, of course, alligators in abundance. Naples Zoo has won dozens of awards for its work with children and conservation groups. It was opened in by Lawrence and Nancy Jane Tetzlaff. He did stunt work for Johnny Weissmuller in the Tarzan films, milked thousands of venomous snakes during the Second World War, and educated millions of adults and children throughout the Midwest and Florida with his wife Nancy.
The Palm Cottage house museum is the oldest house in Naples (built 1895) and a fine example of Tabbie Mortar construction, a hand-made concrete consisting of sand, shells and water. The Norris Gardens is an historic garden that complements Palm Cottage.. Opened in 2007, it features many distinct experiences along the Patrons Walk that chronicle Naples landscape history over the past 100 years. Step back in time into The Garden of the Senses, The Palm Collector's Garden, The Edible Garden, The Pioneer Garden and The Shade Garden. Whether you are interested in palms, edible plants, fragrant plants, exotic plants, grasses, or shade from the summer's glare, there is something here for everyone. Tours are the first and third Thursday of each month from 10am-11am.
Why should I go there?
It has been a hugely popular destination among American holidaymakers for years - and if the locals rate it then it must be special. It is a perfect area for families, couples or older people, whether they are looking for a beach holiday or a relaxing golfing trip. Its popularity among Britons has increased during the past 15 years.
It's easy to get there
Every major carrier goes to Florida. Whether you fly into Orlando, Miami or Tampa, your flight will take no longer than nine-and-a-half hours, and it is usually a lot shorter coming home as the prevailing wind will be behind you. It can reduce the flying time by 90 minutes.

Naples is a two-hour drive from Miami, and a further 30 minutes if you drive from Tampa. Gone are the days when hire cars were obvious and, therefore, easy targets. Don't forget to take your own sat nav or ensure your hire car is fitted with one.

And there is more good news - petrol is about $2 a gallon, so you will be able to fill the tank for about £20, which is a real shocker the first time you do it. Filling stations in Florida insist that you pay before putting in your fuel - I figured that $30 would still leave me with plenty of room in the tank but, in the end, it was a struggle to force in $30 worth of petrol.
If you would like more information on golf holidays to Naples, Florida please visit Golfbreaks.com - Click Here

---
Related Content:
What do you think? leave your comments below (Comments)
---
Leave your comments below
comments powered by

Disqus
More Golf Course & Travel Features
Plan your next golf break with Golfbreaks.com