Hacker to single figures update - Time to take stock
---
In his latest update Kevin Paver takes stock of his progress so far in his challenge to go from hacker to single figures in just one year....
---
We're now into June, so I'm well into the business end of my golf challenge. No more blaming the extremities for my lack of progress as summer is here…kind of! The work on my golf swing is all but done, bar a few quick checks here and there. I mean, I'm not going to be finding myself on tour anytime soon, but both Ryan and I are confident we have a golf swing that is capable of shooting the scores I need to get to a single figure handicap.
The biggest breakthrough was a week ago in the medal competition at The Manor. It was the 'Manor Major' too, so this particular one came with a trophy! Of course, for me at this present moment in time, that isn't my main motivation. I just want to play consistent golf, achieve some good scores and start moving this handicap (which was at 19.8). During this particular competition, I had a sneak preview of the future.
On the front 9, I played really well. The best I've ever played in a competitive round of golf. Every shot I played, I played with confidence. The ball went where I asked it to, and I felt in total control. It sounds daft, but it just felt really easy. I don't think I've ever felt quite that confident during a round before, but I was certainly 'in the zone' that I've read so much about.
I finished the front 9 with a score of 39, +3 gross. The moment my playing partner told me my score was a feeling similar to that of the birth of my son…! I really struggled to hold in my emotions, and just about managed to contain my screams. I didn't manage to contain my ear to ear smile quite so well!
The back 9 wasn't anywhere near as good. For reasons unbeknown to me! Perhaps I thought about the score too much? Perhaps it was the conservative play? Or maybe just the persistent rain that came to join us for the last 3 holes! Either way, I was most definitely NOT in the zone anymore (here's my card on Golfshake)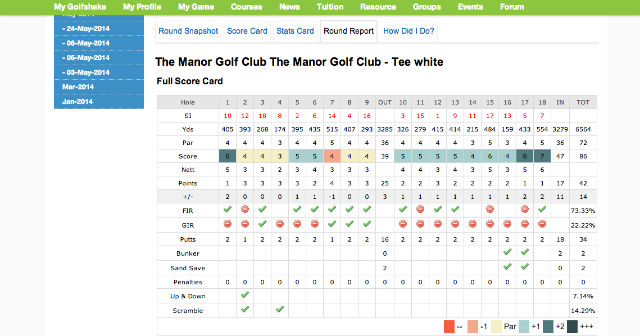 However, the front 9 proved to me for the first time how far my game has progressed. All that hard work with Ryan during the winter is starting to show…a little. I know I've a long way to go, but shooting that kind of score once should give me the confidence that it 'can be' done… and be done by me!
I've worked a little on my mental game, but now I've realised how key this is to me succeeding with the challenge. Despite the relative minefield of 'mental game of golf' books out there, I have found a couple that really make sense to me. I've found David MacKenzie from golfstateofmind.com talks a lot of sense, and his theories seem very logical. I've been fortunate to have a few sessions over Skype with him too, as well as using audiobooks. I'm sure some of his methods have helped me, especially with my pre shot routines. Also, Dr Bob Rotella's audiobooks have been very much part of my world recently. Like David, he talks a lot of sense and makes it all seem obvious. However, making it happen for 4 hours through 18 holes takes some practice.
So, that's the plan now. As well as continuing to work on my game, and play as much as possible (given my work and family life commitments) I will be focussing my practice on the mental game. My routine is getting there, but holding it across 18 holes is tough, and I often lose focus. I know when I practice, I need to stop bashing away at range balls and need to mentally rehearse playing the course. Visualise each hole on the course, go through my pre shot routine and play the shot it in my head, all from the safe haven of the driving range.
Oh…and in case you were wondering regarding the Manor Major Competition, I finished with an 86 (39 front / 47 back), giving me a net score of 66. Turns out it was the lowest score by 1 shot meaning I won! Yes, I know its not the focus, or the ultimate goal, but winning a trophy is a lovely little bonus!
Lets hope I can keep it going…
---
You can keep up to date with Kevin's challenge by going to www.hackertosinglefigures.co.uk and subscribe to his updates. You can also follow him on Twitter @kevinpaver or on Facebook at https://www.facebook.com/hackertosinglefigures
---
---
What do you think? leave your comments below (Comments)
---
---
PLAY MORE PLAY BETTER - LATEST TUITION TIPS
---
Leave your comments below
comments powered by

Disqus