Hacker to single figures in one year - One Yorkshire golfers quest
---
Yorkshire golfer, Kevin Paver, a member of The Manor Golf Club in Drighlington, is embarking on a golfing challenge – to reduce his handicap from 21 to an official low single figure handicap in less than a year.
Golfshake will be supporting him in his quest with tools to track and help improve his game. You can keep up to date with Kevin's progress via his blog or on twitter.
---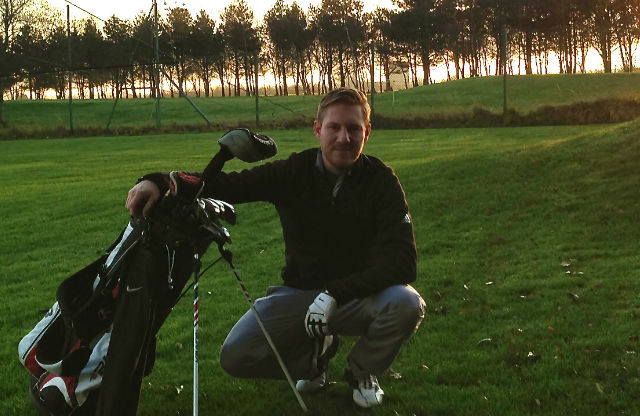 Kevin, a 38 year-old married father of two confesses to an obsession with golf, despite describing himself as a 'hacker'.
Although many have documented similar journeys, Kevin feels that no one has definitively proved that this accomplishment is within the grasps of the average club golfer. He explained, "I was in awe of the many amateur golfers who have tried challenges to drastically improve their golf game. However, when I read them, they never really felt achievable, or sustainable with the time I had to practice and play. That was when I came up with this challenge, one that I actually felt like I could do. I then managed to convince Ryan (Metcalfe, PGA Pro at The Manor) to help me get there!
Whilst progress has been slow on the course, Kevin is confident he is making some really permanent steps forward with his game:
"I'm around three months in now, and so far I've completely rebuilt my golf swing with the help of Ryan. I spent a lot of that time really grooving in a new iron swing that now feels really repeatable. The last few weeks have been spent working with the driver, which is now coming together too. The main difficulty I'm currently having is taking the game I have on the driving range onto the course. The lowest round I've had since starting the challenge has been 4 shots under my handicap. Ideally, I need to be scoring around the low 80s by the end of March to be able to obtain a low enough handicap by the last club comp. I know that I have a much more reliable golf swing now so I'm confident it will come".
He began the challenge at the end of October and aims to be playing to a low single figure handicap by the last club competition of the 2014 season. During the challenge, Kevin is documenting his progress via a blog and on Golfshake in the hope that he inspires other club golfers to embark on a similar path.
"We know that this is not going to be easy. Dropping 10 shots in the next few months is a huge challenge, especially as we're likely to have poor conditions for a while yet. But, I'm confident that with Ryan giving me the right methods, techniques and theories, together we can achieve it. Plus, if we write about how we did it, maybe it will inspire other golfers like me to achieve the same results"
---
To keep up to date with Kevin's progress, read his blog or follow him on twitter.
---
What do you think? leave your comments below (Comments)
---
---
PLAY MORE PLAY BETTER - LATEST TUITION TIPS
---
Leave your comments below
comments powered by

Disqus