St Enodoc offering free lessons as part of Cornwall Golf Week
---
St Enodoc Golf Club, located in the village of Rock in North Cornwall, is offering free golf lessons this weekend as part of its involvement in Cornwall Golf Week 2013.
The aim of Cornwall Golf Week is to encourage new golfers to take up the sport and to make golf clubs more accessible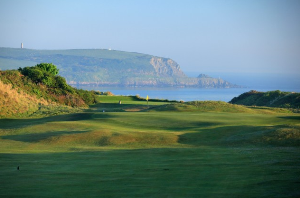 by giving complimentary taster sessions at clubs throughout Cornwall.
Organised by the Cornwall County Golf Partnership and supported by England Golf, Cornwall Golf Week officially takes place from Monday, April 8th, until Sunday, April 14th.
However St Enodoc will be holding its free lessons which are open to everyone of all ages on Saturday, April 6th between 1pm and 4pm and on Sunday, April 7th between 11 am and 2 pm.
Cornwall Golf Week hopes to introduce the game of golf to over 600 individuals throughout the county.
St Enodoc is a
championship links course
designed by the legendary James Braid. Thanks to its unique location, the course boasts spectacular views of either the north Atlantic Coast or the Camel Estuary from virtually every hole. The testing layout follows the natural contours and undulations of the seaside dunes providing the golfer with a tough challenge, especially as the course has a number of blind shots.
The famed Himalaya bunker on the 6th hole is reputedly one of the, if not the highest, bunkers in Europe and regularly instils fear and dread in golfers adding to the mystique and draw of St Enodoc.
St Enodoc was recently positioned at 41st place in Golf Monthly magazine's latest course ranking for the 'Top 100 Courses UK and Ireland 2012' whilst earlier in the year Golf World magazine ranked St Enodoc in 35th position in its 'Top 100 Golf Courses in Britain & Ireland and in 76th spot in the 'World's Top 100 You Can Play'.
For further information or to book a free golf lesson at St Enodoc during Cornwall Golf Week, please call Antony Nash on 01 208 862 402.
---
---
PLAY MORE PLAY BETTER - LATEST TUITION TIPS
---