Foresight Sports welcomes world long hitters at this years Manchester Golf Show
---
Some of the world's longest hitters will be in action on the Foresight Sports stand at this week's Manchester Golf Show at Event City this week (April 5-7).
The Foresight Sports simulator will welcome members of the World Indoor Long Drive Tour who will compete in a simultaneous interactive contest against fellow long-drivers in Amsterdam, and Uppsala (Sweden), beginning at 11am on Sunday, April 7.
At other times, golf breaks and Monarch flights to European destinations will be up for grabs as Foresight Sports,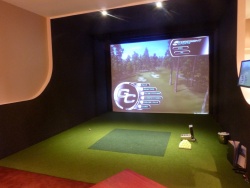 powered by
market-leading GC2 technology,
hosts daily nearest-the-pin and longest-drive competitions, with all proceeds going to the show's benefitting charity, the Lord's Taverners.
Staff from Foresight Sports Europe - will be present demonstrating its flexibility, with two dedicated demonstration bays running GC2/HMT, as well as the full immersion Foresight simulator, powered by GC2, for an interactive nearest-the-pin and long-drive experience. The company will also be showcasing the latest release from Foresight: the fitting and analysis application on iPad.
The GC2 - which
measures ball-flight data
at launch using ultra-high-speed cameras - and HMT (Head Measurement Technology) is the most in-demand technology in golf, having revolutionised club fitting and analysis since its launch in 2010. It was swiftly approved and recommended by many of the world's leading club manufacturers including Titleist, Cleveland/Srixon, Cobra/Puma, PING and TaylorMade. It's also used by many of the world's top professional golfers and dozens of other leading brands within the golf industry.
The GC2 is also familiar to TV viewers who tune in regularly to watch Sky Sports PGA Tour coverage, as it provides the data that drives the Shot Centre simulator. And the UK's best-selling golf magazine, Today's Golfer, has recently adopted the technology for its equipment tests and coaching features, with editor Chris Jones admitting the GC2 "…blew me away!".
Edward Doling, sales director for Surrey-based Foresight Sports Europe, said: "We have worked with the guys behind the show since they first launched the London Golf Show in 2005 and we have always had a successful time whether it's been in London or Birmingham. And we're sure the people of the north-west will embrace and appreciate this new event."
Doling added: "Visitors to this year's PGA Show in Orlando would have seen dozens of GC2 and HMT systems in use in fitting bays and as full simulators confirming that the GC2 is the most accurate, flexible and affordable technology on the market today.
"So many big-name companies are now coming out and saying it, or acknowledging it, by using the GC2 as their preferred and recommended technology. And that is reflected in our experience, because as soon as we demonstrate it to people they immediately see the potential. That's why we always say: if you're considering technology please don't do anything before you experience the GC2. Seeing really is believing as far as the Foresight system is concerned."
Doling added: "The GC2 directly measures all of the core ball-flight data at launch using ultra-high-speed, dual-camera technology. In principle, the HMT does the same thing, only with the golf club. HMT represents a quantum leap in terms of technology available to the golf industry. By looking directly at the clubface, HMT is the only technology that directly measures club-head data into and through the ball.
"Just like the GC2, HMT is incredibly easy to use. Attach it to the GC2, turn it on and you're done. It really is that simple. You just put it down, turn it on and you're ready to go."
The Foresight Sports GC2 costs £5,295; HMT costs £4,990. An indoor swing room starts from £12,500 or a hard-sided, full immersion simulator, fully installed, starts at £21,995. The cost of the complete Foresight range can be spread with an easy-finance option starting from just £6 per day. All prices exclude VAT. For further information or to book a demonstration of the technology, call 0044 (0)845 644 3870 or email
[email protected]
---
---
PLAY MORE PLAY BETTER - LATEST TUITION TIPS
---