Palmer backs Woods to beat Nicklaus Major record
---
A few years ago, following Wood's injuries and personal problems it seems that no one gave him a chance to regain his form and beat Jack Nicklaus's all time Major record of 18. Three wins last year and two so far in 2013 have seen Woods rocket back up the world rankings and finds him on the verge of regaining his World No.1 spot.
Just a few weeks ago, Nicklaus himself backed Woods to take his record and now the most influential player of his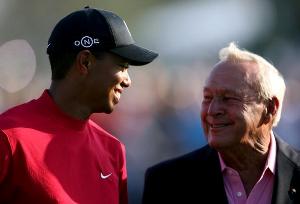 generation, Arnold Palmer has done the same.
Speaking in a press conference ahead of his PGA Tour event this week, Arnold Palmer said:
"I give him a chance to do the record, he'll have to really work hard to keep himself up and keep his mental attitude if he's going to do it."
He went on to comment on Woods recent form, fitness and swing
"I think right now looking at him and watching him play, as I have recently, he looks probably as strong and as good from a golf perspective as I've ever seen him," Palmer said. "I think his swing and his posture and his attitude is far better than it's been in some time."
When asked about the 'other' record that Woods is chasing, that of the total number of tour victories by Sam Snead (82) Palmer said:
"I don't think there is any question about the fact that he can win that many tournaments," Palmer said about Woods' pursuit of Snead. "I think he can, and I think he probably will."
Woods has recorded 76 PGA Tour victories. He will be looking to win a record 8th Arnold Palmer Invitational at Bay Hill this week.
Photo Credit - Arnold Palmer Invitational FB
---

The oldest & most prestigious major, a trip to The Open is a must for every golf fan. From tickets and transfers to hospitality & golf, Golfbreaks.com can build the perfect package to help you experience The Open in style.
---
---
---
PLAY MORE PLAY BETTER - LATEST TUITION TIPS
---