FootJoy promotion saves you £25 on a new pair of spikeless shoes
---
FootJoy Golf, has launched an exciting new footwear promotion designed to put a spring in your step on the fairways this season. To celebrate its most feature packed golf shoe range to date, the market-leading brand is offering golfers a £25discount on any pair of its lifestyle-infused spikless golf shoe styles when purchased alongside one of its popular spiked models. From March 25th until April 26th anyone who buys a pair of FJ ICON, XPS-1, DryJoys Tour, FJ Sport, M:PROJECT or Contour Series models, in selected UK stores, will be eligible for the discount on the following spikeless categories, M:PROJECT™ spikeless, FJ Sport™ spikeless, Contour Casual™ and Women's LoPro Casual.
With the traditional start of the golfing season only weeks away, now is the perfect time to treat your feet to not just one, but two pairs of golf shoes. Whether it's the all-round excellence, style and performance of FJ's Big 4 spiked styles, the multi-functional, on and off-course characteristics of the Contour Casual and FJ Sport spikeless or the extremely lightweight M:PROJECT you can be sure there's an FJ model to suit your style and game.
"At FJ we believe the modern day golfer has a need for both spiked and spikeless golf shoes, so naturally we wanted to incentivise our loyal following of FJ enthusiasts to supplement their shoe collection with a pair our new spikeless designs," commented Russell Lawes, European Marketing Manager, FootJoy. "We are committed to delivering golfers the ultimate in performance, comfort and style both on and off-course and our 2013 range certainly showcases these attributes throughout."
M:PROJECT SPIKELESS
This exceptionally lightweight, streamline performance golf shoe is the result of years of extensive research and is based around the philosophy that Minimal Construction delivers Maximum Feel throughout all phases of the golf swing. Precision constructed from proprietary M:SPEC™ leather by Pittards® of England for a thin-yet-strong specification, this cutting-edge shoe has been designed to deliver a full range of motion along with an incredibly supple and comfortable feel. FootJoy have been able to get the golfer as close to the ground as possible whilst maintaining stability by using a whole host of new technologies. M:PROJECT has already been worn in competition by a number of FJ brand ambassadors, including Hunter Mahan.
FJ SPORT SPIKELESS
Ideally suited for the dynamic golfer seeking a technologically-advanced lifestyle shoe coupled with contemporary sports styling, fresh colour accents and enhanced levels of performance and traction; the FJ Sport Spikeless is packed full of cutting-edge features. Encompassing a completely new outsole with high-frequency mould detailing and a sports upper pattern, this striking shoe is also constructed using the finest soft full grain leather uppers to provide outstanding levels of breathability, support, comfort and tensile strength. Englishman, Chris Wood recently became the first FJ ambassador to claim a win wearing FJ Sport spikeless, following an stunning final-hole eagle at the Qatar Masters.
CONTOUR CASUAL
Providing golfers with the ultimate in comfort, fit, flexibility and style, the 2013 Contour Casual range incorporates a completely new upper pattern design that is highlighted by a colourful saddle option and plain toe blucher. Available in a variety of fashionable colour options, this lightweight casual golf shoe has been crafted from the finest luxury full grain leathers to deliver excellent support, cushioning, fit and durability as well as a premium look. Contour Casual has been seeded with a variety of FJ Tour players in recent
WOMEN'S LOPRO CASUAL
FJ's LoPro Collection is the #1 selling women's golf shoe category and FootJoy are intent on keeping this status, by offering a variety of fashion forward looks from hi-end tailoring fashion and contemporary colour splashes, to casual everyday looks. The 2013 collection incorporates the spikeless LoPro casual for women seeking the versatility of fashionable footwear that can be worn on and off the course, boasting six different colourways, with extra lace options to suit various style needs. This essential lifestyle shoe is currently worn on the LPGA Tour by FJ ambassador and World #1, Stacey Lewis.
For more information on all FootJoy please visit www.FootJoy.co.uk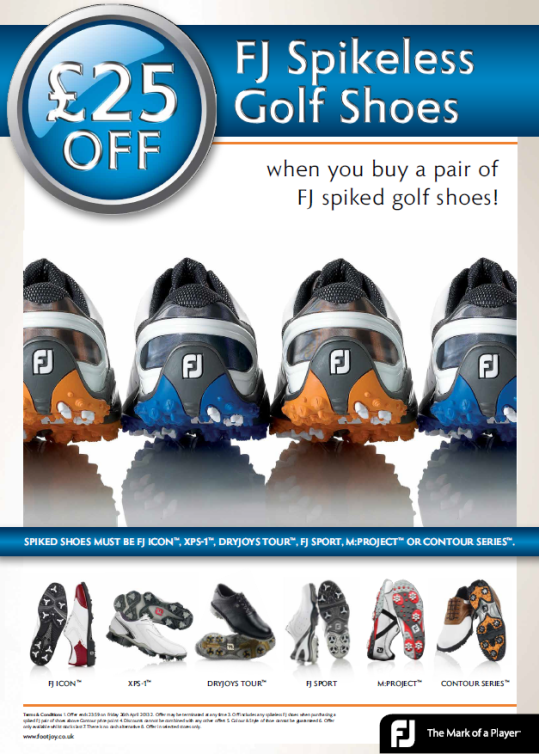 ---
---
PLAY MORE PLAY BETTER - LATEST TUITION TIPS
---