Vladimir victorious over record Faldo field in Russia
---
Vladimir Osipov recorded an impressive seven-shot victory in the fifth Faldo Series Russia Championship at the Agalarov Golf and Country Club in Moscow. The 17-year-old Russian fired rounds of 70, 71 and 72 to claim one of the remaining five Grand Final spots that were on offer.
"I'm delighted to have qualified for the Grand Final, I have played in Ireland before so I won't be phased by the conditions," said an elated Osipov. "I'm hoping to get some mental game advice from Sir Nick to help develop my golf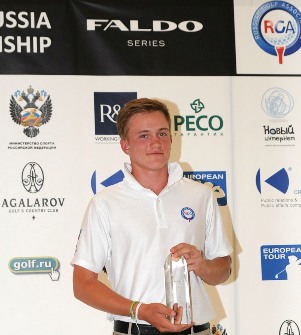 further."
Other age-group winners heading to the World Amateur Golf Ranking event are Nikita Ponomarev (Boys' Under-21) and Kirill Yurev (Boys' Under-16), both winning their age categories by four shots.
The final two spots in the 16th Faldo Series Grand Final at Lough Erne Resort in Northern Ireland on September 11-13 were taken by Nina Pegova (Girls' Under-21) and Vera Markevich (Girls' Under-16).
Keith Wood, Faldo's personal coach was once again present to work with a record 117 competitors throughout the week.
Supported by The R&A, the European Tour and Lough Erne Resort, the 2012 Faldo Series Europe schedule features a record 20 tournaments in 14 countries including six in England plus others in Bahrain, Ireland, Chile, the Czech Republic, Greece, Wales, Austria, Brazil, Germany, The Netherlands, Scotland, Slovakia and Russia.
Established in 1996, 38 Faldo Series tournaments now take place in 28 countries worldwide with more than 7,000 golfers participating each year. Past winners include Major Champions Rory McIlroy and Yani Tseng.
Leading final scores: Boys' Under-21: 234 – Nikita Ponomarev (77-82-75); 242 – Evgeniy Volkov (77-86-79); 246 – Ilya Burlakov (76-83-87). Boys' Under-18: 213 – Vladimir Osipov (70-71-72); 226 – Vasiliy Belov (74-76-76); 227 – Pavel Goryainov (77-74-76). Boys' Under-16: 220 – Kirill Yurev (73-69-78); 224 – Ilya Akushko (72-76-76); 232 – Georgiy Chernov (76-80-76). Girls' Under-21: 224 – Nina Pegova (76-76-72); 240 – Zhanna Tarasko (75-85-80); 241 – Ksenia Eremina (81-78-82). Girls' Under-16: 233 – Vera Markevich (76-76-81); 242 – Sofiya Anokhina (79-81-82); 244 – Stefaniya Ivanova (88-77-79).
For more information on the Faldo Series visit www.nickfaldo.com. You can also follow the Faldo Series on Facebook at www.facebook.com/faldoseries and on Twitter at www.twitter.com/faldoseries.
---
---
PLAY MORE PLAY BETTER - LATEST TUITION TIPS
---