Six shot victory sees Oliver Gabor claim Slovakian Faldo Series
---
Oliver Gabor cruised to a comfortable six-shot victory in the third Faldo Series Slovakia Championship at the Black Stork Golf Resort, a PGA golf course in Velka Lomnica. The 19-year-old Slovakian fired rounds of 73, 72 and 73 to triumph over a record field.
"My ball striking got better and better as the week progressed and that gives me great confidence going into the Grand Final," said Gabor.
"I'm really looking forward to competing in Northern Ireland and learning as much from Sir Nick as I can."
Dalibor Hudak (Boys' Under-18) secured his spot in his third straight Grand Final while Matej Malicek (Boys' Under-16) will make his debut at Lough Erne Resort on September 11-13. In the girls' division Katarina Chovancova (Girls' Under-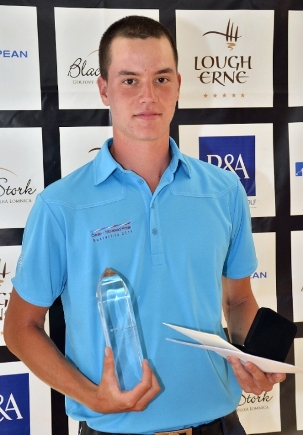 21) and Emma Klimentova (Girls' Under-16) both qualified for the Faldo-hosted World Amateur Golf Ranking event for the second time.
Physiotherapist Valerie Nettleingham was on hand all week to work with the record 83 competitors on the physical side of the game. Local coaches also gave lessons and were impressed by the vast improvement in play during the three years that the Faldo Series has been in Slovakia.
Earlier in the week, Sir Nick Faldo and the Black Stork Golf Resort announced an extension of their agreement which will see the Faldo Series return to Slovakia for a further three years to 2015.
Supported by The R&A, the European Tour and Lough Erne Resort, the 2012 Faldo Series Europe schedule features a record 20 tournaments in 14 countries including six in England plus others in Bahrain, Ireland, Chile, the Czech Republic, Greece, Wales, Austria, Brazil, Germany, The Netherlands, Scotland, Slovakia and Russia.
Established in 1996, 38 Faldo Series tournaments now take place in 28 countries worldwide with more than 7,000 golfers participating each year. Past winners include Major Champions Rory McIlroy and Yani Tseng.
Leading final scores: Boys' Under-21: 218 – Oliver Gabor (73-72-73); 224 – Michal Hanzalik (74-74-76); 225 – Ladislav Ujhelyi (75-75-75). Boys' Under-18: 233 – Dalibor Hudak (72-83-78); 254 – Jan Peco (88-85-81), Simon Nagy (88-84-82). Boys' Under-16: 229 – Matej Malicek (79-76-74); 236 – Jan Friesz (71-92-73), Dominik Oravec (81-80-75). Girls' Under-21: 225 – Katarina Chovancova (73-76-76), Natalia Heckova (74-72-79); 236 – Lina Sekerkova (82-82-72). Girls' Under-16: 235 – Emma Klimentova (76-79-80); 242 – Alexandra Patakova (82-81-79), Lea Klimentova (84-78-80).
For more information on the Faldo Series visit www.nickfaldo.com.
---
---
PLAY MORE PLAY BETTER - LATEST TUITION TIPS
---