Golf Courses Given Facelift During Lockdown
By: Golfshake Editor | Wed 28 Apr 2021 |
Comments
---
ON THE face of it, this has been a pretty miserable time for club golf but a number of courses decided to bite the bullet and use the lockdown as a time for major renovation work. It means many golfers have returned to courses that have had major facelifts.
Chart Hills gets set to relaunch
Perhaps the biggest project of all came at Chart Hills Golf Club, which was bought by Ramac Holdings in December 2019. They realised the course had been neglected and that drastic measures had to be taken. And the final results will finally be unveiled on June 1st.
Director of Golf Anthony Tarchetti said: "We have made enormous strides and are hugely proud of the product we will be presenting. While the work has been significant, we absolutely will not rest on our laurels. This is just the beginning of a road of continuous improvement at Chart Hills, with plans already in place to continue developments over the coming years.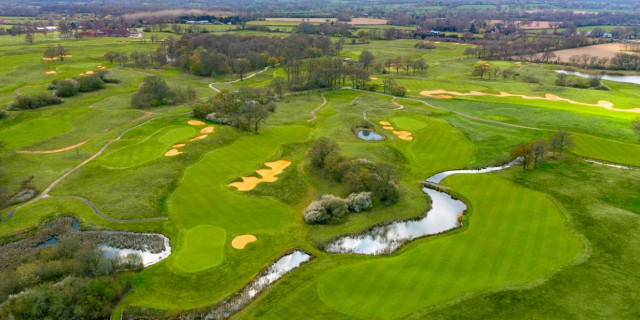 "We are extremely excited to welcome our members and their guests back to the club in the coming months."
Initially, the project was supposed to take more than two years to complete, with the course due to reopen in summer 2022. But the lockdown presented them with a unique opportunity to complete the work well within that timeline.
The course was closed in July last year, with no reopening scheduled until all 18-holes had been completely renovated. The focus of the project was to relay every fairway, producing surfaces that are playable year-round. There has also been a complete bunker overhaul.
Major developments completed at The Springs
And Chart Hills is by no means an isolated case. The Springs Golf Club has spent a fortune on a long-term project designed to create a course to be proud of.
A club spokesman said: "Not long after purchasing The Springs, we straight away invested around £1.4m to improve the course whilst we looked at planning to further enhance the site for our members, and for the visiting golfer. Those improvements in the course, and in our approach helped us to become a GEO Certified course in 2020, a highly regarded sustainability distinction awarded to only 2% of golf courses in the UK.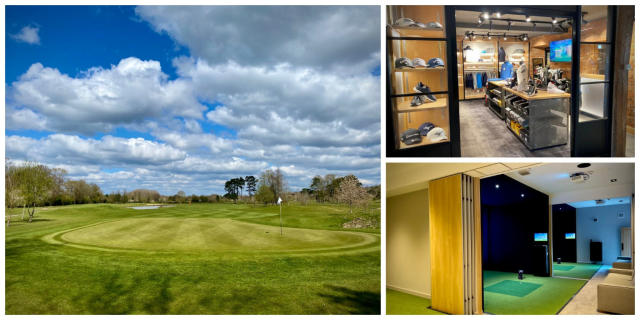 "In September 2020, we embarked on a project to further improve our entire facility, which forms part of our £20 million long-term investment in The Springs. Our overriding goal was to transform every aspect of the golf experience. We have made significant improvements to our existing clubhouse, including an extended balcony area, new outdoor area, an entirely reconfigured bar, restaurant and professional shop. We have also added two brand new state of the art GC Quad swing studios and putting lab, a new car park, new greenkeepers facility as well as improvements to the current practice ground, which will see an increased levelled teeing area as well as specific targets on the outfield. We hope this work will be complete as the next stage of restrictions are lifted.
"Finally, we will be adding luxury lodge accommodation, hotel accommodation along with a brand new reception and spa. When fully complete later this year, we believe The Springs Resort & Golf Club will be one of the very best state-of-the-art golf facilities in the South of England."
Lanhydrock improvements ready to welcome guests again
Lanhydrock Golf Club in Cornwall is another that has seen refurbishment during the past 12 months "It's hard to put into words how difficult the last year has been for us, but since March 2020, we've been determined to stay optimistic and front-footed" Clare Bond, Director of Lanhydrock Hotel & Golf Club, told Golf Business Week. "Without question, it's been the hardest period we've ever had to navigate, but we're proud to have worked non-stop throughout the lockdowns to make sure we can not only safeguard our business, but reopen even better than before and continue to provide local employment."
Clare, her husband Graham and son Christian have remained at the hotel throughout the various lockdowns. "We have refurbished the reception area along with two Superior Suites, as well as working through all of the hotel rooms. Each one has had various touch-ups and they look great. We're using lots of exciting bright colours, all new upholstery and repainting our lovely Lloyd Loom chairs. We want everything looking its absolute best for when we can welcome our guests again."
Improvements to the golf course include drainage work, bunker reconstruction and re-turfing the second, eighth, ninth and 18th holes. A mixture of trees and flowers have been planted in the grounds to support local wildlife, while substantial work has also been done with mature tree management around the course and driving range.
The clubhouse at Fairhaven Golf Course in Lancashire has undergone a £1.25 m refurbishment. A 10-month improvement programme included a new private function suite which can cater for up to 160 guests and the work took place over four stages to minimise disruption. The project included creating a formal reception area for the club as well as new men's and ladies' locker rooms. Fairhaven's ground floor dining room has been extended, along with a new bar area. The clubhouse's first-floor bar has undergone refurbishment, modern office facilities have been created and a first-floor extension now sites over the pro shop and men's locker room.
Further improvement work is planned in the future.
West Surrey Golf Club has renovated four holes - the third, seventh, eighth and ninth - which will be ready for the summer. The eighth will feature new fairway bunkers and restricted green side bunkering. And look out for big changes at Hillsborough Golf Club in Sheffield too, where they have taken advantage of the pandemic to make improvements.
In September, Royal Dornoch opened its new seventh hole on the Championship Course. It was opened by former Open champion Paul Lawrie. While the par four hole, known as 'Pier', had been in play since the end of 2019, the pandemic put paid to Royal Dornoch officially unveiling it until September 2020. The new hole – which measures 485 yards from the blue tees – has been pivoted to the right so the sea is in view for its entire length. It also features a green with only the sea and sky beyond it, a replica of the previous one. The work was first proposed after a course review in 2013 and approved by the club in 2015. Future work will see new raised tees built at the eighth hole on the location of the previous seventh green – again bringing more sea views into play and enhancing the original strategy of the hole.
Course improvements have been taking place in Europe too. The Verdura Resort in Italy revealed that it is set to reopen its second 18-hole championship course this summer after a major renovation programme.
Golf architect Kyle Phillips returned to Sicily in 2019 to start work on improving his original design after a freak flood damaged a number of the championship layout's holes along the coastline at the end of 2018.
Having completed all the design and construction work just before the pandemic started, reseeding of the fairways, greens, tees and rough began at Verdura, as at Chart Hills, in the summer of 2020. The resort – home of the European Tour's Rocco Forte Sicilian Open – will give the course plenty of time to grow in over the coming months but, providing everything goes according to schedule, it aims to reopen its second layout this summer.
---
If you know of other courses having completed any major development work we would love to know. Simply get in touch.
---
What do you think? leave your comments below (Comments)
---
Tags: daily picks
---
PLAY MORE PLAY BETTER - LATEST TUITION TIPS
---
Leave your comments below
comments powered by

Disqus