Golf's Return - Am I The Only One Who Is Confused?
---
Opinion Piece by Derek Clements
---
I AM confused. And I am sure that I am not the only one. On one hand we are told that, from Wednesday, we will be allowed to meet "a friend" in open spaces as long as we observe social distancing measures. We can even meet up with parents we might not have seen for seven weeks. But if you want to play golf, you can only do so with a member of your own household.
I have my own views as to whether this is the right time to return to playing golf but what on earth is the difference between meeting somebody in a park and playing golf with them as long as, in both instances, social distancing is observed?
The good news (if you can call it that), is that the Prime Minister gave the green light for golf courses in England to reopen from Wednesday, and this has been confirmed by England Golf and the R&A. However, courses in Wales, Scotland and Northern Ireland remain closed, with no indication as to when that is likely to change.
All the indications are that golf clubs have had no contact from the Government and will be looking to the sport's ruling bodies for guidance. While many people will celebrate the news that we can play golf again, it seems highly unlikely that there will be a mass reopening on Wednesday. Golf clubs will need to ask themselves if it is financially viable for them to unfurlough staff and return them to work when they know that no additional income will be forthcoming.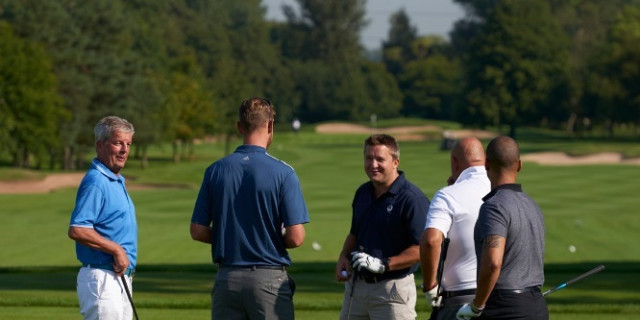 From Wednesday, it should be anticipated that only club members who will be able to play and, obviously, they will not be allowed access to the clubhouse, other than to use the toilet facilities. Members will have to book a tee-time, will have to turn up ready to play, will have to follow strict new guidelines and will be expected to get in their cars and head straight home after they have finished playing.
We are likely to see one-way systems enforced in car parks, there will be no rakes in bunkers, holes will be upturned and there should not be any flags. It is also highly likely that many courses will restrict members to nine holes if, as expected, the demand for play exceeds availability. Everybody will have to a book a tee-time but heaven alone knows how golf clubs will actually be able to ensure that only people from the same households are playing together. There will be people who break the rules - it is human nature, especially given everything we have been through.
There are many who will believe that the return is premature, that golf clubs have not been given enough time to prepare, that pressure has been brought to bear by wealthy clubs.
This is what the Prime Minister said on Sunday: "From this Wednesday, we want to encourage people to take more and even unlimited exercise. You can sit in the sun in your local park, you can drive to other destinations, you can even play sports but only with members of your own household."
---
Related Content
Golf Courses to Reopen in England From Wednesday
When is Golf Coming Back - Golfers Have Their Say
Guidance Revealed For When Golf Does Resume
How Golf Courses Are Looking During Lockdown
---
The R&A and England Golf were quick to rush out statements on Sunday night in which they confirmed that English courses were to reopen on Wednesday.
"Golf can resume in England on Wednesday following the latest update by the UK Government," the R&A said in a joint statement with golf's stakeholders and home unions. "All outdoor sport must be done alone or within a household group, and that includes hold. Golf clubs and golfers have observed the lockdown very well and must keep it up and react responsibly as play resumes."
Hours later, England Golf had issued a further statement making it clear that it was obeying the Government in order to "publish the best operational guidance for our clubs and golfers ahead of Wednesday's return to play. We will communicate guidance after our discussions with government and other industry partners as soon as it is practicable. We appreciate you patience and understanding."
This confirmed, without question, that there had been no communication between the Government and golf's ruling bodies ahead of Boris Johnson's statement on Sunday. This being the case, it might have made rather more sense to seek clarification BEFORE rushing to tell us all that we can play golf again from Wednesday.
Communication - or lack of it - has been an ongoing problem in our sport. We are constantly given mixed messages, or no messages at all. And so it continues. It seems that we have learnt nothing.
And I am not the only one who is confused. The Shire London has let its members know that until it received further clarification from England Golf it plans to remain closed.
Things are not great in the rets of Europe either. In Germany, where courses reopened last week, some in Berlin had to close again because social distancing rules were not being followed, while another in Bavaria has been fined for re-opening before it was officially allowed to do so.
"Each club is controlled by its local authorities, and a few clubs in the Berlin area had to close directly after they had the permission to open again, because they didn't follow the security rules," said golf writer Petra Himmel. "One club in Bavaria opened on Tuesday and made it public before they were controlled by the police and have to pay a 25,000 Euros fine for one day and every other day they open before getting their final opening permission on Monday."
Courses in France were due to reopen today (Monday, May 11) but there isn't a great deal of optimism.
"The thing about golf in France is that we still don't have very good press as a sport," said Martin Coulomb, who writes for L'Equipe. "So, we as golfers in general have to be very careful when the courses will reopen to apply strict rules against the virus. We'll have to show by example that golf is a sport that fully respects all the proper measures."
In Spain, some courses have already reopened, but others still don't know when they can resume.
"The Spanish Golf Federation thinks we will have around 100 of the 400 courses we have in the country reopen on Monday," said Alejandro Rodríguez, who writes for ten-golf.com. "Madrid and Barcelona present the worst situation due to the coronavirus and we don't know yet If they will be ready for phase one."
Courses have opened in Portugal but are largely deserted because they depend so heavily upon tourists - and there aren't any. Nor will there be in the immediate future.
In North America, demand for golf has been huge, with courses overwhelmed as they opened for business.
And in Australia golf courses are also reporting strong demand to play the game. "I was itching to play golf, but my first trip to the course was really strange with all the restrictions," said Evin Priest, a golf reporter for Australian Associated Press. "But, once people started to play, they became more comfortable and now my local course is so busy you have to book tee times a week in advance. My routine is nine holes every afternoon at about 3pm, chasing the sunset.
"It's therapeutic and I'm not the only one who feels that way. There are lots of Australians trying golf as they have nothing else to do. It's an escape from a subdued and depressing pandemic."
As we write this, England Golf have updated the statement from the 10th May 2020 and are actively seeking clarification of what the guidelines from government will mean and will update their statement in due course to provide clarity for what it will exactly mean on the 13th May. We await their response.
---
What do you think? leave your comments below (Comments)
---
Tags: daily picks
---
PLAY MORE PLAY BETTER - LATEST TUITION TIPS
---
Leave your comments below
comments powered by

Disqus