Royal Mid-Surrey Draws New Golfers with Academy Programme
By: Golfshake Editor | Mon 17 Dec 2018 |
Comments
---
Historic Royal Mid-Surrey is warmly regarded as being among the finest golf clubs in England, featuring two superb courses that were designed by the legendary J.H. Taylor, but its facilities have a contemporary feel and progressive vision, with the Academy looking to inspire and make a significant move when it comes to introducing the game to more people.
Head Professional Matthew Paget and his team launched the Academy, which has provided new or returning golfers with a pathway into learning the game and joining the golf club. Taking away the possible intimidation and making the game more accessible, Royal Mid-Surrey's Academy has offered a friendly and welcoming environment for men and women looking to take up golf, building up their confidence and delivering coaching that is both effective and enjoyable.
The Academy comprises of a six-month programme of regular coaching, social activities and supervised playing on the golf course. It's a flexible endeavour and one that has already been successful in terms of bringing more men and women into the game and golf club.
Royal-Mid Surrey Feature Review
Equipment has been provided by Yonex, removing a potential barrier, with students at the Academy participating in a series of individual, group and on-course lessons. These are held fortnightly, while the private tuitions is arranged at your convenience, but it's the social element that helps to enhance the overall quality of the programme, with frequent meetings and events allowing the new players to connect with other members and the golf club. Practice sessions are featured, in addition to access to interactive communication software that maintains a dialogue with the coaches and fellow Academy golfers.
It's a strikingly impressive template that has grown in stature, as the new golfers have embraced the supportive environment and peer group they become part of when joining the Academy.
Among the graduates of the Academy is 62-year-old Sally Hobbs, who turned to golf after retirement and a hip replacement. Sport wasn't previously a major part of her life, but she has embraced the discipline of learning something new and was impressed by the facilities and welcoming environment at RMS.
"I like the game because you're playing against yourself, rather than taking on opponents, and I like to see my progress on a scorecard," she said. "When I came to Royal Mid-Surrey it was the obvious place for me. It had a great looking clubhouse, attractive courses to play and the professionals and the members were all so welcoming. It was a nice surprise that it was so inclusive, because my husband was a keen golfer, but it was clear then that women were not so welcome at a golf club.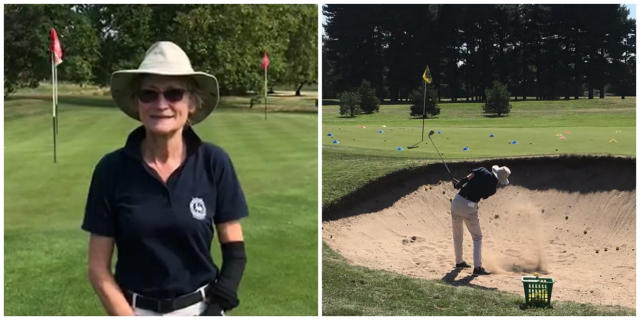 "It's also great that I can join in a group session at the Academy and have a total of eight to get myself used to hitting the ball and playing out on the courses. Of course, there is a lot to remember in learning the game, but I like to practice between sessions over nine or 11 holes on both courses.
"I've definitely made new friends here and two of my friends have joined me since I came to Royal Mid-Surrey. Now I'm looking to treat myself to a new set of clubs for Christmas at the end of the Academy sessions," she added.
Sally attends the group session that are held fortnightly on a Thursday, and we can expect her to be a part of the Ladies Section at Royal Mid-Surrey in future, which is already the largest in the country.
There is much to admire about the Academy, the success of which could well influence other club across the country. But when it comes to those people based in south-west London, it's the ideal avenue for potential new golfers.
For more information on the Royal Mid-Surrey Academy, visit https://www.rmsgc.co.uk/academy.
---
What do you think? leave your comments below (Comments)
---
Tags: Royal Mid Surrey
---
PLAY MORE PLAY BETTER - LATEST TUITION TIPS
---
Leave your comments below
comments powered by

Disqus