Team Golfshake Set Personal Golf Targets and Goals for 2018
By: Golfshake Editor | Sat 27 Jan 2018 |
Comments
---
Approaching the new golf season, we all set objectives and hopes for the coming months. Team Golfshake has come together and outlined their targets and ambitions for 2018. Have you set any goals for yourself for the year ahead?
---
James Reeson
My 2018 goals are all performance based and mainly around stats. By the end of October one of my goals is to have a scoring average for the season of 70 or below. It's a statistic that I've seen improve year on year for me and to get it into the 60s for he first time would be a good achievement and big step in the right direction. (
Golfshake Score Tracker
).
My second goal is to average 30 putts of less per round over the same time period as above. A majority of my winter practice has been dedicated to putting and something that I've worked incredibly had on. I set this goal for myself at the end of last season as I feel it's the area where I can make the biggest leap forward with my game. I have invested into it and worked really hard over the winter to try and achieve it in 2018.
Derek Clements
Secret Harbour Golf Links. You will not have heard of it, but you will be reading about it in March. I am off to Perth for three weeks in February - that is Perth, Western Australia, NOT Perth, Scotland. The temperature will be about 30C. We are staying in a house that overlooks Secret Harbour, which runs alongside the Indian Ocean. I am also hoping to get in 18 holes at The Vines, which is regarded as one of the best courses in Australia. Watch this space.
Carnoustie. It is my intention to get in 18 holes at the toughest course on The Open rota, just to remind myself how difficult it really is before Rory McIlroy and company make it look ridiculously easy. I still cannot quite believe that Tommy Fleetwood reduced it to 63 shots last year. While I am in that neck of the woods, I also hope to take in The Old Course and St Andrews and the spectacular Kingsbarns, which is one of the best courses I have ever played.
Out and about: I will be attending the BMW PGA Championship at Wentworth, The Open at Carnoustie, the British Masters at the magnificent Walton Heath and cannot wait. I expect to see Tommy Fleetwood win at Wentworth, Rickie Fowler come out on top at Carnoustie and Justin Rose to claim yet another European Tour title at Walton Heath. I also hope to get across the Channel to take in a little event called the Ryder Cup - you might have heard of it. I am expecting a titanic battle at Le Golf National, on the outskirts of Paris.
Miscellaneous: I am hoping to find something that will take the terror out of three-foot putts. There are some days when I can stand over the ball and roll them in without a second thought. There are other days when I feel like the putter is about to go off in my hands and that I have no control over it whatsoever. I am also in the market for a shiny new set of irons (hint, hint) and a new driver. I have had a Ping G25 in my bag for years and although I love it to bits, it is beginning to look a bit tired. But what on earth do I replace it with?
Matt Holbrook
To play more golf than I did last year. Some work commitments last year meant that through the summer I played a lot less golf than the previous 2 years and that maybe a reason why my handicap didn't move during 2017 (The first year in which it didn't drop)
To reduce my handicap to a single figure. Currently off 11 exactly. I plan to spend a lot of time working on my short game again - which I didn't do during 2017 - and that will get me over the line.
At least 1 trip to Spain/Portugal/France by the end of the year. (Golfshake Travel Section). For the past 5 years I have organised trips at the start of the year. But due to some personal circumstances I have been unable to do one for 2018. However I do plan to make up for this later in the year!
Get a new Callaway TruVis tour bag.
Rob Treanor
In terms of my plans for 2018 I'm in the middle of some pretty big swing changes and whilst I'm on the right track, there have been some dark times at freezing cold driving ranges this winter trying to figure out how the hell to swing the club on a foreign path! I'm two strokes into a planned drop of ten and whilst it's a big ask I would love to have broken 80 by Christmas.
Playing this year, I'm really looking forward to a trip to Portugal at the start of March. The new course at West Cliffs looks outstanding and the group is looking forward to five days of outstanding golf. (West Cliffs Feature). I'll be living in the US for a few months over the summer and whilst I haven't given golf much thought yet, I'll definitely be taking my clubs with me! Closer to home I'm a big fan of heathland courses so venues like Woburn, Swinley Forest and West Hill feature highly on my 2018 "to do" list.
Andrew Picken
Complete more Golfing Gastronaut adventures
Sort out shoulder injury and improve overall fitness and flexibility
Play TPC Sawgrass courtesy of the Hole in One club qualification
Continue structured and organised coaching from Steve Astle East Midlands Golf Academy PGA coach.
Ensure a more effective and structured practice routine. Stick to it.
Play more Club golf, try and achieve an Honours board entry.
Play more Pro Ams and Open events to test competitive edge
Play more Championship standard courses
Play more golf with my son.
Mel Davies
Get to play St Andrews Old Course.
Get to play some other links courses.
Reduce my handicap to 11 and get towards my goal of single figures.
Try and play at least 10 new courses.
Win the annual golf day that I organise and become the first person to win it twice.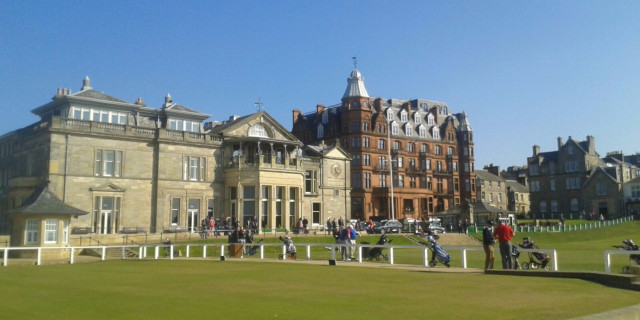 Kieran Clark
Quite simply, the easiest thing for me would be to play more often. That's something I've left myself down with, partly due to frustrations with my game, but not playing is unquestionably counterproductive to that process. Living in St. Andrews, I have the sheer privilege of being able to experience the famous Links, and I hope to share that with others in 2018, which was a massively enjoyable aspect of my golf last year.
More specifically, I would like to play at least three new courses, break 80, and generally feel like my game is improving again and at a level where I can really savour the opportunity of playing. Rather than being focussed on stats or particular goals, I hope to maintain a record of my rounds on the Golfshake Score Tracker, but playing and meeting up with fellow golfers - both for the first time and longstanding friends - is my main ambition for the year. It's a game, and it's more enjoyable when shared with others.
---
What do you think? leave your comments below (Comments)
---
---
PLAY MORE PLAY BETTER - LATEST TUITION TIPS
---
Leave your comments below
comments powered by

Disqus