Let Us Not Forget That Sport is Supposed to be Fun
---
Do you remember Bubba Watson marching to the first tee at the 2012 Ryder Cup at Medinah and actively encouraging the fans to cheer and holler as he struck his opening drive? And Ian Poulter following him and also orchestrating the crowd? It was spine tingling.

What about the tens of thousands of 'enthusiasts' who encircle the par-three 16th hole at TPC Scottsdale and boo every golfer who misses the putting surface at the Phoenix Waste Management Open? Francesco Molinari will tell you that the feelings when he recorded a hole in one there was like nothing he has ever experienced on a golf course – and this is a man who won his national open in front of an adoring home crowd. For sure, 98% of those spectators may have sampled a little too much beer while sitting in the blazing sunshine for seven or eight hours, but do you really believe the players care? They simply embrace the passion.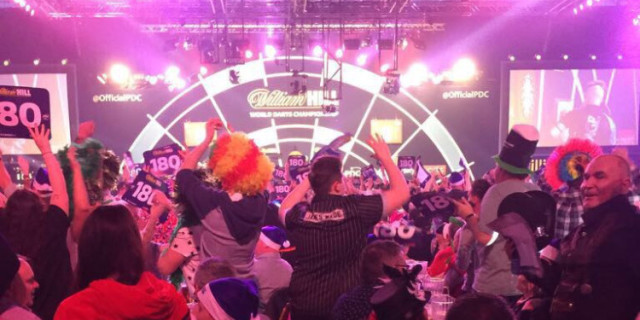 While it may not be the ideal playing environment for the likes of Colin Montgomerie, who can famously hear butterflies beating their wings, it proves that professional golf does not need to be played in a funereal atmosphere and that if you have the right attitude then it is possible to embrace the passion and enthusiasm of fans and feed off it. And encourage it.

Now I am not suggesting for one moment that we should be encouraging spectators to get as excited about golf as have the thousands who have watched the PDC World Darts Championship at Alexandra Palace, but the thing that has stood out above all else during the 2017 tournament is that competitors and spectators alike have had a ball. And, just for good measure, we had shocks galore, with seeds falling early and players most of us have never heard of living the dream. There was Jamie Lewis reaching the semi-finals and somehow losing 6-1 to Phil Taylor and surely walking off the stage and asking himself: 'How did that happen?' It was a match he could have won. During the summer, Lewis, from Wales, had considered quitting darts, but a life-changing couple of weeks has changed all that.

Then there was Rob Cross. At the beginning of 2017 he did not even have a world ranking. Now, here he was on the biggest stage in darts, facing Phil 'The Power' Taylor in the final with a chance to walk away with a cheque for £400,000 by beating the 16-time world champion, playing in his last tournament. It is almost impossible to describe the scale of Cross's achievement.

And lo and behold, he only went and won it – thrashing Taylor 7-2 in the final. He watched last year's tournament on television and shortly afterwards joined the PDC circuit, choosing to give up his job and career as an electrician. What a year he has had. By the time he arrived at Alexandra Palace he had already earned £300,000 in prize money and achieved a world ranking of 20. After his astonishing performance here, he finds himself ranked fourth in the world.

Do you recall when Todd Hamilton won The Open? Or Ben Curtis? It wasn't meant to happen. But it did. Their victories were also life-changing but afterwards both men were unable to kick on.

It is a racing certainty that we will be hearing a great deal more about Cross. He beat Michael van Gerwen, the undisputed world number one, 6-5 in a nail biting semi-final, coming through a sudden-death shootout that left Van Gerwen so demoralised that the Dutchman refused to speak to the media afterwards.

When Van Gerwen beat Raymond van Barneveld in the quarter-finals, Barney was beyond depressed. It had been a thrilling match of the highest quality, and Van Barneveld had chances to win but couldn't take them. He said that he wasn't interested in the adulation that came with having taken part in one of the best matches this tournament has ever seen. And it has seen plenty. "Losing in the quarter-finals, it is nothing. Losing in the semi-finals, it is nothing. Losing in the final, it is nothing. The only thing that matters is winning, and I haven't done that." Don't let anybody tell you that these men are not competitors.
Barney was back at home in Holland but here was Cross facing the greatest darts player the world has ever seen, with almost everybody in the crowd willing Taylor to achieve a fairytale ending to his extraordinary career. The atmosphere was electric but no matter how hard the crowd tried, they were unable to lift The Power to one more improbable triumph. Taylor was magnanimous in defeat, acknowledging that, at 57 years of age, he could no longer find it within himself to compete against the new young guns on the circuit.
Cross's rise is similar in many ways to that achieved by Jon Rahm, the Spaniard who in little more than 18 months has come from nowhere to become the world's fourth-ranked player. Would anybody bet against either of these individuals finishing 2018 as the top-ranked individuals in their chosen professions?
Here is another thing. When was the last time that you turned up for a golf tournament and were approached by touts willing to pay over the odds to relieve you of your tickets? Never, I would suggest. But there they were outside Alexandra Palace. Supply and demand – it is all about supply and demand. And when it comes to the PDC world championship, demand far outstrips supply. When you have experienced the unique atmosphere, it is not difficult to understand why this would be. There is no sporting theatre like it anywhere on earth.
The argument about darts' status as a sport will rage on but, frankly, who gives a damn? How can you possibly criticise an event at which tickets for every session are sold out so quickly? 70,000 tickets for this event were snapped up within two days of going on sale – incredibly, 25% of them to people from Germany. To put that in perspective, they had to pay for flights and they pumped money into the local economy through stays in hotels and guesthouses, they spent money in restaurants and pubs, and they almost certainly took advantage of the sales in the stores in London.
This is more than a sporting event. It has become a global phenomenon. More than 100 media outlets were present for the final, from Sky Sports, who did such a magnificent job of televising it, to TalkSport, to national and regional newspapers and websites from around Britain, Germany, Holland, Australia, Canada and beyond. This incredible growth has happened in less than 10 years and offers a shining example to other sports, including golf, as to how a flagship event should be staged.
How can you poke fun at those who turn up to watch with only one target in mind – to enjoy themselves. Lest we forget, sport is meant to be fun. And nobody has more of that than those involved in and around this magnificent tungsten festival.
It has been a privilege and a pleasure to be part of it.
---

Be part of the action with a selection of unique golf tournament experiences, from playing in a pro-am with the stars to watching the action at golf's most illustrious events. Whether it's the Masters or The Open, The Ryder Cup or WM Phoenix Open, build your own bespoke package with the experts at Golfbreaks.com.
---
What do you think? leave your comments below (Comments)
---
---
PLAY MORE PLAY BETTER - LATEST TUITION TIPS
---
Leave your comments below
comments powered by

Disqus