Heartwarming Comeback Stories that Prove Anything is Possible
---
THERE is something rather heartwarming about a comeback, when somebody who has spent years in the wilderness somehow finds a way to roll back the years and win again. There are all sorts of comebacks – usually they are one-offs, when a sportsman or woman briefly calls on the memories that helped them achieve their success in the first place. And then there are those whose comebacks trigger a return to past glories. Golf is a sport that has seen more comebacks than most. Here, we look at 10 of the best of them.

Ben Hogan

Hogan achieved the comeback to top them all. He had won three majors and was widely regarded as one of the best golfers of his generation. And then, in 1949, Hogan and his wife, Valerie, were involved in a car accident in which both of them were seriously injured. It was thought that Hogan would never play golf again – in fact, there were concerns that he may never walk again. He spent two months in hospital and then faced months of rehabilitation, but Hogan would make a remarkable recovery. Hogan would go on to win a further six majors. In 1953 he won The Masters, the US Open and The Open – he was unable to enter the US PGA championship because it was played at the same time as The Open.

Kenny Perry, 2008

Perry's comeback was extraordinary and highly unlikely, and came at the age of 48. He had enjoyed a decent enough career but always felt there was something missing – Perry had always wanted to play in the Ryder Cup, to represent his country in the heat of golfing battle. During the winter of 2007 he spent hundreds of hours working on his game with the sole purpose of making Paul Azinger's team. And he went on to enjoy the best year of his life, winning the Memorial, the Buick Open and the John Deere Classic. He finished fifth on the money list in 2008 with $4.6m, more than four times greater than the amount he had earned the previous year. And, just for good measure, he was a key member of the team that won back the Ryder Cup.

Jason Dufner, 2016

Dufner was and remains one of the best ball strikers on the PGA Tour. With a wedge in his hand he may actually be the best in the business. So it came as no surprise when the American produced 72 holes of stellar play to win the 2013 US PGA Championship at Oak Hill, even though he struggled with short putts - had he been able to putt as well as most of his rivals he would have won the tournament by at least 10 shots. A sign of things to come arrived during the second round. He recorded a glorious 63 but left a putt for a 62 on the final green two feet short of the hole and struggled to pull the trigger before the ball eventually lipped in. It was inevitable that his putting woes would eventually catch up with him and Dufner spent most of the next two years going through agony on the greens. His putting stroke looked tentative, and the results were inevitable. At the end of 2015 he decided to quicken up his putting routine and stop thinking too much about what could go wrong. And he duly went out and won the 2016 Career Builder Challenge, his first start of the year. Crucially, the victory was achieved on the back of some brilliant putting.

Hal Sutton, 1995

As his glorious career came to an end, the world of golf was desperate to find a genuine heir to Jack Nicklaus. Many contenders came and went. And then along came Hal Sutton, who appeared to be the real deal. Like Nicklaus, he was blond. Like Nicklaus, he hit the ball a long way. And like Nicklaus, he was one helluva player. When he won the 1983 US PGA Championship he became known as the Bear Apparent in homage to Nicklaus' Golden Bear nickname. But then it all went wrong. From 1986 until 1995, Sutton lost his short game. Golf became a difficult game for him until he went back to see Floyd Horgen, his former college coach. Sutton shot a final round of 61 to win the 1995 BC Open at En-Joie Golf Club to win for the first time in nine years. It sparked a renaissance that culminated in him beating Tiger Woods to win the Players Championship in 2000.
Padraig Harrington, 2015

After winning three majors in 2007 and 2008, Harrington suffered a slump in form. It was self-inflicted. Like so many before him, the Irishman decided to tinker with a golf swing that had served him well for his entire career. By 2015, he had fallen to 297th place in the world rankings with his career seemingly in terminal decline. He took part in the 2015 Honda Classic on a sponsor's invitation and, to the surprise of everybody other than the player himself, found himself in contention. He put his resurgence down to a conversation with Bob Rotella. Harrington came to the 71st leading the tournament. The hole was a par three and when Harrington put his tee shot in the water and walked off the green with a double bogey it seemed that his challenge was over. But he holed a 15-foot putt on the last to force his way into a playoff with Daniel Berger and went on to defeat the young American "As a lot of people who win major tournaments say, you look back at them and you try and live up to them," said Harrington. "I just got very intolerant…found it very hard to really separate from the bad shots."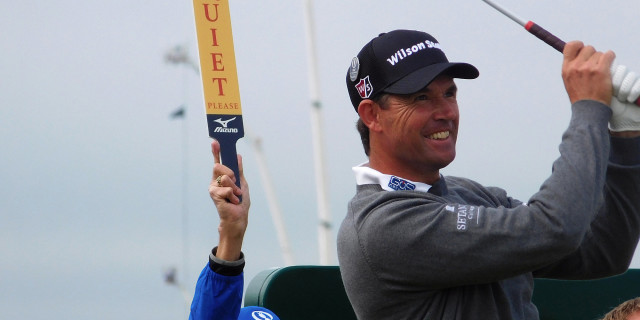 John Daly, 2004

Daly was one of the most naturally-gifted individuals ever to pick up a golf club. He won the US PGA Championship as an alternate and The Open at the Old Course at St Andrews. But he would be the first to admit that he wasted his talent. Daly had an addictive personality, which meant that he did everything to excess. He drank too much, he smoked too much and he ate too much. Unsurprisingly, he spent many years in the wilderness. And then, out of the blue, came the 2004 Farmers Insurance Open at Torrey Pines. Daly arrived at the tournament with no form to speak of but, incredibly, ended up winning. He sealed victory on the par-five 18th hole when he struck a magnificent shot from a back bunker to with in 12 inches of the hole and then watched Luke Donald and Chris Riley miss short birdie putts to force a playoff.

Paul Azinger, 2000

When he won the US PGA Championship in 1993, Paul Azinger was, without argument, one of the best players on the planet. He did things very much his own way, with a very strong left-hand grip. But he found a way to get the ball in the hole. He was also a cussed competitor who never knew when he was beaten. But he was devastated when, after visiting his doctor, he was diagnosed with cancer. He took 18 months off and beat the disease but struggled to rediscover the magic when he returned to the game and spent four years looking for a way to win. And then he turned up at the Sony Open in 2000 and destroyed a world-class field by seven shots. Azinger was back. Two years later he brought the house down at the 2002 Ryder Cup at The Belfry when he holed a dramatic bunker shot at the 18th hole to deny Niclas Fasth victory.

Johnny Miller, 1994

By the time he teed it up at the 1994 AT&T Pebble Beach Pro-Am, Johnny Miller was a part-time golfer and full-time broadcaster, having played just five tournaments in four years. He received a special invitation from the sponsors to play at Pebble Beach. And lo and behold, the 46-year-old only went and won the tournament, despite suffering from the yips. He later revealed that he had managed to get through it thanks to a combination of putting with his eyes closed, never taking his eyes off a red dot on his putter and looking at the hole instead of the ball – and you thought that Jordan Spieth was the first to do that! "It just goes to show you that in the right place, at the right time, magic can happen," said Miller.

Dudley Hart, 2008
Hart was forced to miss the whole of 2007 to look after his wife, who had been diagnosed with cancer. When he returned to action in 2008 he was given 15 events to earn $485,931 to retain his playing rights. Now that is pressure. As it turned out, Hart required only six events to make the required sum and then crowned it all by finishing 12th, second and 10th at the three season-ending FedEx Cup playoff tournaments. He finished the year in 12th place in the FedEx Cup after six top-10 finishes.
Steve Stricker, 2006 and 2007
Stricker holds a unique place on the PGA Tour, having been named comeback player of the year twice – and in successive seasons for good measure. He finished 2005 in 162nd place on the money list, his career seemingly at a crossroads. But then he began to turn things around and in 2006 he climbed to 34th place in the money list. That wasn't bad, but what he achieved the following year was something else. He claimed the Barclays, for his first victory in more than six years, and finished second to Tiger Woods in the FedEx Cup. By the end of the year he had reached fourth place in the world rankings with earning of $4.6m.
---

Be part of the action with a selection of unique golf tournament experiences, from playing in a pro-am with the stars to watching the action at golf's most illustrious events. Whether it's the Masters or The Open, The Ryder Cup or WM Phoenix Open, build your own bespoke package with the experts at Golfbreaks.com.
---
What do you think? leave your comments below (Comments)
---
---
PLAY MORE PLAY BETTER - LATEST TUITION TIPS
---
Leave your comments below
comments powered by

Disqus