10 Golfers Who Lived Up To Expectations
---
Did you catch the footage of the young Welsh football fan who met his hero, Gareth Bale? "Are you really Gareth Bale? Are you really him?" the goggle-eyed youngster asked. He couldn't believe his eyes and he couldn't contain his excitement, all the more so when the Wales and Real Madrid star removed his top, signed it and handed it to the young boy, who will remember the moment for the rest of his life. It was a touching scene and it surely earned Bale a whole new army of fans.
It got us thinking about the golfers we look up to. Sometimes, when you meet them in the flesh they turn out to be a disappointment. Here, we look at 10 tournament professionals who have gone out of their way to engage with spectators. They are all men who are or were a credit to their profession and who could teach some overrated footballers a lesson.
MATT KUCHAR
Not only is Kuchar one of the best golfers on the planet - just check out his record and career winnings over the past ten years if you doubt it - but he is also one of the game's good guys. A smile is never far from the American's fans. And the best news of all is that it is entirely genuine. He likes people, and he likes his fans. Like Phil Mickelson, he will not leave the course until he has suffered from writers' cramp by signing autographs.
BOO WEEKLEY
There is only one Boo Weekley. He is a blue-collar American with no airs and graces whatsoever - and he remembers when life was tough, when he struggled to make ends meet. There may be some who don't entirely approve of the camouflage clothing he wears on the golf course, but you will not find anybody with a harsh word to say about Weekley. Fans and fellow players alike just love the guy.
ANDREW 'BEEF' JOHNSTON
Just think about it for a moment. Every time he hits a shot, every time he walks down a fairway and every time he walks onto a green there are thousands of people shouting: "Beef!" And because he is such a recognisable character, the same thing happens to him when he comes off the course. Everywhere he goes, people want a piece of him, want to have a selfie taken with him, want to talk to him. There must be times when it gets him down, but check out the internet and see if you can find a single example of him ever turning anybody away. We will save you the trouble - he never has!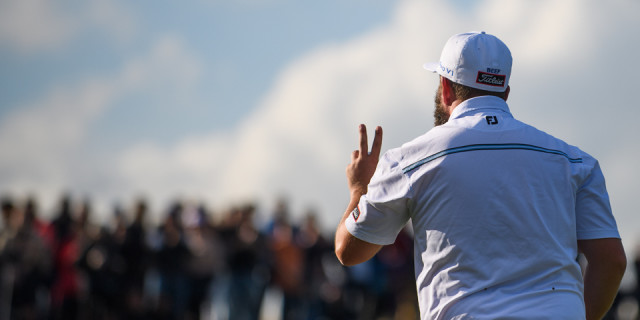 HENRIK STENSON
For reasons that we cannot understand, the Swede gets something of a bad press - there are those who regard him as being bad-tempered, even a bit aloof. He is no such thing. Henrik Stenson is one of the funniest men currently plying his trade on either the PGA or European Tour. He has a fantastic sense of humour and he loves inter-acting with the galleries. No golfer is happier high-fiving enthusiastic spectators in the middle of a round.
ARNOLD PALMER
They called him The King, and for good reason. Yes, his style of golf was something special. Everybody loved his attacking play - and everybody loved him! Palmer had a rare gift - not only was he happy to engage with his thousands of fans, but he also had a knack for remembering where he had met people and when he encountered them again he was able to recall those meetings. Just imagine how it made ordinary golf fans feel to think that they had made an impression on the man who changed the face of professional golf for ever.
JACK NICKLAUS
The greatest player the game has ever seen is also a perfect gentleman. He won a record 18 majors, but they say that you really find out what a person is like when they lose, and Nicklaus finished second in more majors than any other golfer. He was always magnanimous in defeat. When Tom Watson beat him by a shot during The Duel In The Sun at Turnberry in 1977, Nicklaus turned to him and said: "Tom, this is what it is all about. This is why we play golf. I gave it my best shot, but you were better." It is easy to say the right thing after you have won, but Nicklaus always found the right words in defeat - the right words for the media, and the right words for the fans who queued up to seek his autograph.
DOUG SANDERS
Sanders established a reputation as a colourful player with a colourful love life. This is the man who used to think nothing of walking onto the first tee wearing yellow shoes, yellow trousers and a yellow top. He was, and remains, a larger than life character. But he has an incredible zest for life, and he loves people - and that includes fans. And the louder they were, the more that Sanders responded to them
PHIL MICKELSON
Nobody, but nobody, gives more back to golf fans than Mickelson. Check out the way he reacts to applause. Not for him is it good enough simply to touch the peak of his visor or baseball cap. He properly acknowledges applause for good shots - each and every time. But it is when Mickelson has finished his round that he comes into his own. It makes no difference whether he has shot a 64, 74 or 84 - he will happily engage with fans afterwards, signing caps, golf balls, programmes and autograph books until there is nobody left in front of him.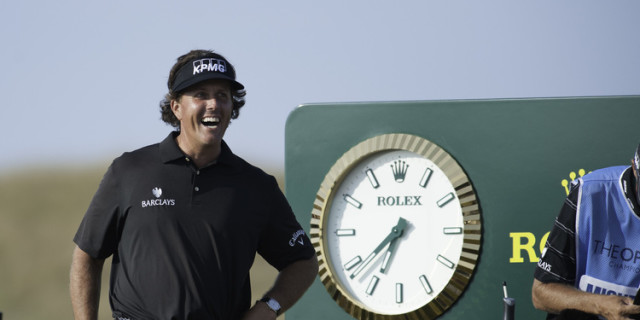 FRED FUNK
The straight-driving Fred Funk was a fan favourite on the PGA Tour. This is, after all, the guy who once turned up to play wearing a dress after being outdriven by Annika Sorenstam. To do that, knowing the cameras are on you and knowing that the image is going to appear all over the world takes some nerve. It also means that you can laugh at yourself - and Funk most certainly can.
STEVE STRICKER
Who doesn't love Stricker? He has always been a fan favourite, and it could well be because he lost his game completely and had to battle his way back to the summit of the game. During his second coming he became one of the best golfers on the planet, but he never forgot how easily it could all be taken away from him again. Stricker always looked like a man at one with himself and with the course. More important, he was always at one with the fans. He would engage with them while playing, happily chatting away with the galleries while waiting to play a shot. And yes, he also spent hours signing autographs. A credit to the game
---

Be part of the action with a selection of unique golf tournament experiences, from playing in a pro-am with the stars to watching the action at golf's most illustrious events. Whether it's the Masters or The Open, The Ryder Cup or WM Phoenix Open, build your own bespoke package with the experts at Golfbreaks.com.
---
What do you think? leave your comments below (Comments)
---
---
PLAY MORE PLAY BETTER - LATEST TUITION TIPS
---
Leave your comments below
comments powered by

Disqus