Interview with Graeme Storm: The Real Pressure of the European Tour
---
"It initially was a very difficult pill to swallow but one that I had to accept quickly and get over," said European Tour regular Graeme Storm, reacting to the news he had lost his card.
Ahead of the new season that is beginning this week, the professional from Hartlepool is a relieved man having discovered that his 111th position on the final Race to Dubai money list would be enough to regain his full playing rights for 2017, after Patrick Reed had failed to compete in the required amount of events to retain his playing privileges.
The pressure at both ends of the order of merit are enormous and shows the lifestyle of a golfer isn't necessarily as golden as it looks from the outside. Sky Sports pundit and ex-Ryder Cup star David Howell was the man who had finished above Storm but by just €80, which makes amplifies the importance of every single shot a professional plays.
"It was always going to be tough to take when it was so close and also knowing that the impact wouldn't have affected David Howell as much as it would me. David being in the top 40 of the career money list meant he would always be keeping his playing privileges in 2017. I did initially think about the bogey I made at 18 and wondering if I could have done anything different but I also could say that about my whole season. 2016 has been a tough year and one I hope to learn from going forwards."
But, where does a professional golfer who has lost his full playing privileges after 16 consecutive years on the tour go when the unthinkable happens?
"Although I'd officially lost my playing rights for 2017 and my exemption in to all the top European Tour events, I still had a category that would allow me to play on tour but in lesser events and meaning having to wait if I would get into events at the last minute."
"Going to tour school was the plan to just improve the position I was in and hope I could regain my card at the first attempt. Basically, in a nutshell, I didn't really have to time to get down or worried about my situation but to get straight back to work and put all my efforts in regaining my card."
However, when Patrick Reed opted not to play in the Nedbank Golf Challenge and pulled out of the Turkish Airlines Open it meant that he had only played in three European Tour events. Players are required to compete in a minimum of five regular European Tour events outside of the majors and World Golf Championships in order to earn full membership.
In a matter of days Storm had gone through a whirlwind of emotions and this latest news came as somewhat of a relief for the man from the North East of England. "My emotions were all over the place as I was watching Liverpool thrash Watford 6-1, while wondering what the outcome was going to be when they called. Although I was quite positive it would go my way as I am on the players committee and knowing the rules, Patrick would have to come out of the order of merit by not playing the amount of events required to keep his playing privileges. This still was quite a nerve racking time, as he could always change his mind and go to play in South Africa and Dubai, changing everything. It was just the not knowing and it being in someone else's hands rather than my own."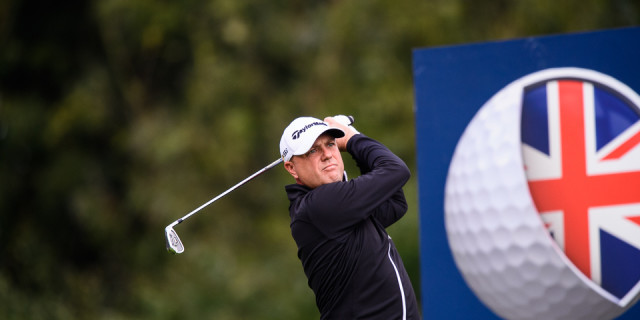 At the top of the game you have the likes of Henrik Stenson whose career earnings on the European Tour alone surpass €25million. His caddie Gareth Lord, pocketed around a 10 per cent share of his employer's £1.2million winnings after guiding him to victory in The Open Championship. This figure is just over a third of what Storm made during the 2016 season altogether, showing that although some golfers and their caddies can enjoy a comfortable lifestyle, for many others it is far from relaxed.
"Playing golf for a living has many highs and lows it's just about limiting the lows and working hard on and off the course to get the rewards that you are striving for consistently. Golf is one of the toughest sports to try and earn a living at, as we aren't guaranteed to make a financial gain every week we play. First of all there is a huge outlay of money to play golf on tour over a season, with flights, accommodation etc. as well as paying for your caddie. Then there is making the cut to actually make money, as we don't get paid unless we make all 4 days. This isn't like any other professional sport where you get guaranteed money for playing, you have to make the cuts to earn a living.
"Its a pressure you don't want to find yourself in," said Storm when discussing the pressure of fighting for your tour card, "as that's not why we play, to just keep our playing privileges. It's about winning and competing at the highest level. Although saying that, the pressures were immense coming down to the wire of the season and just hoping to get that one result to make all the difference.
"For me, the toughest part of playing on tour is all the travelling and flying so far away from home for long spells at a time, and being away from my young family and only getting to speak to them on the odd occasion because of time differences and school for the kids."
Now heading into his 17th consecutive year on the European Tour, just what has the 38-year old learned from this experience and where does he go from here?
"I learned that I can't rest and have to keep grafting to be the best player I can be so that I don't find myself in this position again. I wouldn't want to go through all of this again and I intend not to. Also that every shot when your playing, no matter what time of the season it is, it is hugely important and not to be to relaxed and think everything will be ok. One shot can make all the difference in the end.
"I see myself becoming a better player, to try and win again on tour and to hopefully achieve my dream of playing a Ryder Cup. Who knows what is around the corner, just look at people like Miguel Jimenez and what he is doing and how he played Ryder Cups in his 40's and I'm still only 38!"
Despite the tremendous amount of pressure that weighed down on Storm's shoulders last year, his confidence and ability to have a positive attitude for the 2017 season should be admired by all.
---

Be part of the action with a selection of unique golf tournament experiences, from playing in a pro-am with the stars to watching the action at golf's most illustrious events. Whether it's the Masters or The Open, The Ryder Cup or WM Phoenix Open, build your own bespoke package with the experts at Golfbreaks.com.
---
What do you think? leave your comments below (Comments)
---
Tags: european tour
---
PLAY MORE PLAY BETTER - LATEST TUITION TIPS
---
Leave your comments below
comments powered by

Disqus