The Golf Back Board
---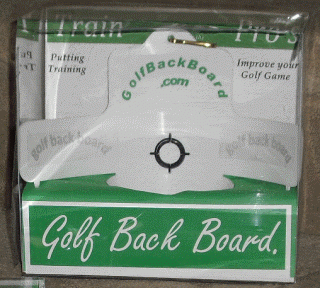 So what is this Golf Back Board? The 'GBB' is placed into the regulation cup or a practice cup and simply triples the size of the hole. Move the wings for a smaller target.
The GBB can be 12 inches or 6 inches wide. You decide. It totally trains you to get the putt into the hole. By the middle of your round, you will know how much good putting means to lowering your golf score.
If you count putts when you play, you will see the easiest way to save strokes is to improve our putting game.
HOW?
On every green you are taking aim at a 'Target'. The Target is in the center of an enlarged cup - a large, eye-catching back board that will assist you in putting the 'gimmie' into the hole.
Taking the long putt is a nerving exercise. With the Golf Back Board, depth perception is improved because of the large target the back board has. This target is in the center of the cup so you can't miss it. Building your confidence during practice and play will make your golf game better when not using the GBB.
The ball will need to have the correct speed to go into the hole without the golf back board, so you will also be practicing club head speed / ball speed. Remember we are practicing for the real game.
Final good point about the Golf Back board, ball retrieval! The bottom of the golf hole is 6 inches below the surface of the green. Many golfers find this a stretch. You can retrieve 4 golf balls (maybe 5) with the GBB by picking the GBB up by its back board. This backboard stands
5 inches above the green. That is 10-11 inches less a golfer has to bend….What a back saver.
If you try the Golf Back Board, you will be convinced, as we were that this device is the best
golf training tool for putting on the market today.

For more information or to buy the Golf Back Board visit www.golfbackboard.com
---
Related Content:
---
---
Comments