How measureable is your practice?
---
Post by Cambridgeshire County Golfer Ed Dimambro (scratch handicap)
---
As April fast approaches, most of the talk is about who is going to triumph at Augusta National with Jordan Spieth looking very good and Rory McIlroy somewhat of an unknown entity at present due to his current injury woe. I always think of the Masters as the unofficial start of the golfing season, nothing like a major championship and the spring weather to entice the fair weather golfers out of winter hibernation and for the white competition tees to re-emerge.
For some, February and March could be used as a time to hone any deficiencies highlighted using the Golfshake stat tracking app from the prior season (check it out via this link for those new to stat tracking, or simply a chance to get our games just that bit better ready for the yearly assault on our handicaps.
Last year, with encouragement from the guys at Golfshake, I committed to enter my stats after every competition round for an entire season to give myself the best chance to work on small things during the year and then really focus during those cold winter months. My first guest blog was on the subject of the benefits of collecting stats. In total I kept a record of 29 rounds of golf and the standout stat for me for the year was that my average putts which came in at 32.86 per round (European Tour average 29.5).
Now this doesn't necessarily mean that it is your putting that needs work, it could also highlight the fact that you simply aren't hitting it close enough with your approach/pitch/chip shots. The average make % of putts naturally drops the further you get away from the hole, unless of course your name is Jordan!
Just to be sure I used this winter to commit my time to working on my putting and wedge game from under 75 yards. To do this with the help of my swing coach, it has been based on measureable practice games as opposed to just hitting ball after ball on the range/short game area/putting green.
The two games I want to share with you are all about pace and distance control as I felt that was the area that needed the most work, and coincidentally (or not!) distance control with wedges from 20 - 70 yards. These games are incredibly simple and take the same length of time as a typical range session, I found they really mixed it up and helped me really engage with what I am doing and stay focussed during practice.
Putting Pace Control Practice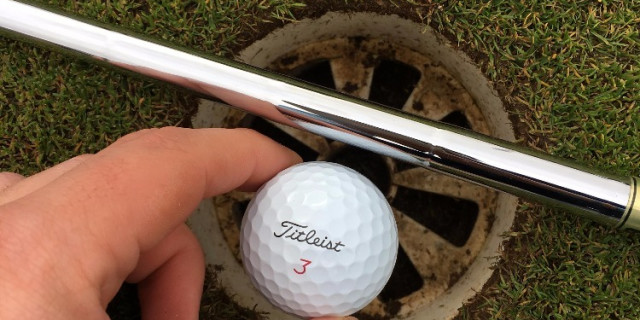 The putting pace control practice requires 15 balls, your putter, 1 other club and on the odd occasion a lot of patience and determination!
Simply place down 3 balls at the following distances (feet) from the cup - 3, 5, 10, 15 and 20. Then go to the cup and lay down your chosen wedge over the hole as shown in the picture with just more than a ball width at the front of the cup. From each of the 5 distances, you have to make the putt without the ball touching the club, the target being to make 2 out of the 3 before you can move back to the next distance. Count up the number of putts it took in total for you to complete the game and try to beat it next time!
The game is very specific as you are not only trying to make the putt; you are trying to make it at a very specific pace. Should you wish to challenge yourself further, you can add the rule that if you miss more than 1 at any given distance you have to start all over again!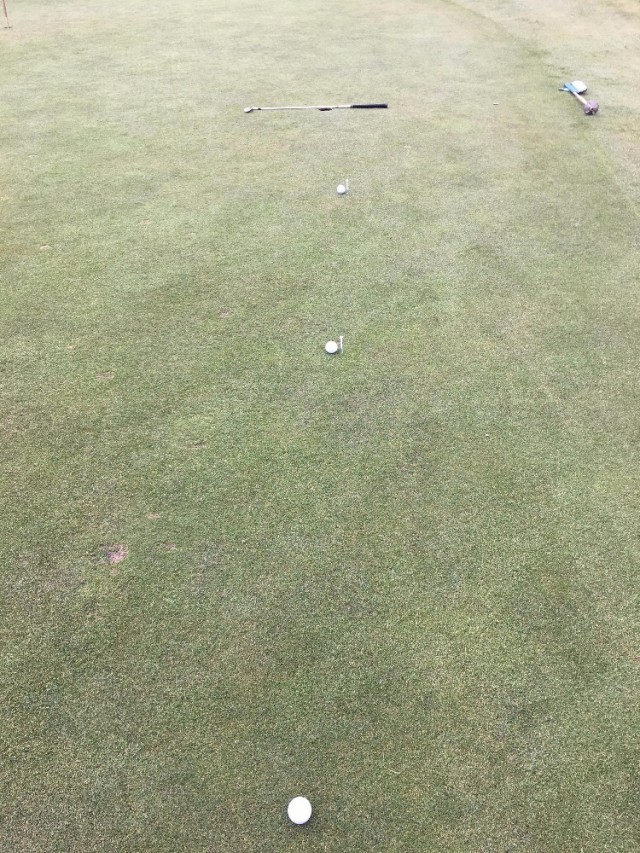 Wedge Distance Contol Game
The wedge game will take a little bit more time to note down your scores but again, it is very simple. Pick your target: it can be on a short game green, target on the range or even in the garden if you have the space! (Not sure how that would go down with your spouse, but you would soon learn not to get too steep and take massive divots when you chip/pitch!)
Prep is key, so head out starting at 20 yards away from your target and put down 3 balls at the following intervals (yards): 20, 26, 32, 38, 44, 50, 56, 62 and 68. Pick you weapon of choice, for me this entire game is done with my 58* wedge. Now head to the 20 yard station and before you hit each ball you have to pick it up and drop it as if you were taking a drop on the golf course (additional bonus of practicing how you drop as this can really help and is definitely overlooked) with the key here being 'you must play it as it lies Mr. Gilmore'!
Once you have dropped and hit all 3 balls at your target, walk up and measure the distance they are from your pin/club/bag etc and award yourself and note down the following points:
Inside 3 feet – 3 points, from 3 to 12 feet – 1 point and worst case outside 12 feet – deduct 3 points. (Harsh I know but it keeps you engaged on every shot right until the end).
Head back to your next station and repeat the process until the game is over. Again nice and simple, see what you score on your first attempt and try to beat it next time. Should you want the challenge to be made harder, reduce the 12 feet target to 11 and then 10 etc.
It has the added bonus that if you find a yardage that you really like from 20 – 75 yards, when you have the option to lay up you can target the distance you know from practice/experience that you are the best at. On the other hand, it tells you that if you just hit driver and then 3W at a par 5 or long par 4 knowing that you can't reach and in turn could leave you a yardage you know you aren't good at, then take a shorter club and leave a distance you like!
Good luck with the practice and we would love to hear about any practice games that you use! Please feel frr to comment below.
You can download and use the Golfshake app for free by - Clicking here

---
Related Content:
---
---
Comments