Most Notable Father and Son Combinations in Golf History
---
For many golfers, they were introduced to the game by their dads. Golf is often a familial transition, passed down through generations who bonded over a shared interest on the course. It's the same for the leading players in history, who have frequently had a child growing up with the ambition of following in their father's footsteps.
This week at the U.S. Open, Dru Love is making his professional debut in a major Erin Hills. The 23-year-old son of two-time Ryder Cup Captain Davis Love III made it through qualfiying to secure a spot in America's national championship. His father, a 21-time winner on the PGA Tour, is proudly stepping back from playing and carrying the young man's bag around the rolling undulations and mounds of the expansive Wisconsin course.
It's the continuation of a family tradition for the Loves, with Davis Jr (Dru's late grandfather) being a respected professional who played in several majors, including finishing in a tie for sixth in the 1969 Open Championshp. This is just one of many examples of sons emulating their dads, and as we approach Father's Day, it's an opportunity to look back at some of the most notable Father/Son duos in golf.
Old Tom Morris / Young Tom Morris
Advertisement
Likely the most famous and revered father and sons in golf history, both played a formative role in the development of the game and the origins of the Open Championship. The St. Andrews men won the game's oldest major four times each, with Old Tom being influential in creating the layouts at both Prestwick and the Old Course, in addition to numerous other layouts. His life was long and successful - dying at the age of 86 in 1908 - but his son endured a tragic fate, passing away on Christmas Day at 24 just months after his wife and newborn child had died after a difficult birth.
Willie Park Sr / Willie Park Jr
From East Lothian, the Parks (similar to the Morris') were important figures throughout the growth of golf in the late 19th and early 20th centuries, with Sr winning the first Open Championship at Prestwick in 1860, before picking up the title on three other occasions, as did his brother Mungo. Jr won Claret Jug twice, and later become an influential writer and course designer, creating the likes of the Old Course at Sunningdale and Olympia Fields near Chicago.
Percy Alliss / Peter Alliss
One of the UK's most renowned golf families, the Alliss' have enjoyed a long association with the game. Percy was a respected professional, who taught across England, Wales and Germany, in addition to enjoying a fine playing career, winning numerous tournaments and recording high finishes in ten Open Championships. He also played on four Ryder Cup teams.
Peter was a talented golfers, winning events across Europe and internationally, as well as following his father by playing in the Ryder Cup on eight occasions. However, it's as a broadcaster that he is best known, having been the BBC's 'voice of golf' since the 1960s, in addition to hosting celebrity programmes in both the UK and United States.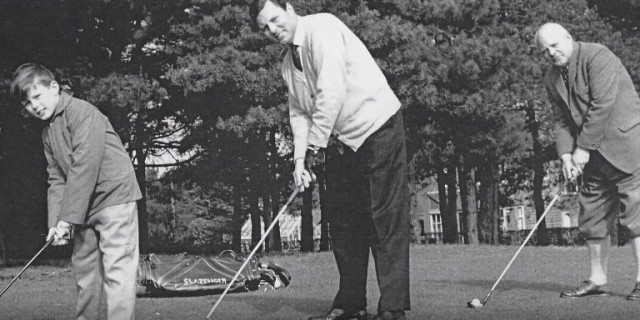 Al Geiberger / Brent Geiberger
Winner of the US PGA Championship 1966, Al is famed as being the first player to shoot 59 on the PGA Tour, and his son Brent developed into a handy golfers in his own right, picking up two victories on the circuit in 1999 and 2004. The Geibergers made history when they both competed in the PGA 19 years ago.
Antonio Garrido / Ignacio Garrido
The second father and son combination to play int he Ryder Cup, Antonio played on the European Tour for more than two decades, and won five titles, including finishing third in the Order of Merit in 1977. Ignacio was part of Seve's team in 1997, in addition to being a two-time winner on the Tour, with the standout being the PGA at Wentworth in 2003.
Jose Maria Canizares / Alejandro Canizares
Jose Maria was a hugely successful player on the European Tour, winning six times and on four Ryder Cup teams for Europe, while his 34-year-old son Alejandro has won twice on the circuit, and is currently ranked 200th in the world.
Jack Nicklaus / Gary Nicklaus
Expectations are high when your father is the most decorated major champion in golf history, but Gary Nicklaus made an admirable effort at forging a career in the game, playing three full-seasons on the PGA Tour, which included a playoff loss to Phil Mickelson at the BellSouth Classic in 2000. He also played in two U.S. Opens and in Europe.
Jack, it goes without saying, has an impossibly long list of achievements of document. 18 major championship victories, 73 PGA Tour wins and an extraordinary legacy, he is widely regarded as the game's greatest ever player.
Claude Harmon Sr / Butch Harmon
Few golf families have achieved more in golf than the Harmons, with Claude Sr having won the Masters Tournament in 1948, in addition to being a close friend of the legendary Ben Hogan. His sons followed into the golf industry as coaches, most notably Butch, who has instructed the likes of Tiger Woods, Dustin Johnson and Greg Norman.
A former PGA Tour player, the younger Harmon is also a frequent broadcaster for Sky Sports and remains one of the game's most colourful personalities, with his own son (Claude III) emulting his father in both the instruction and television.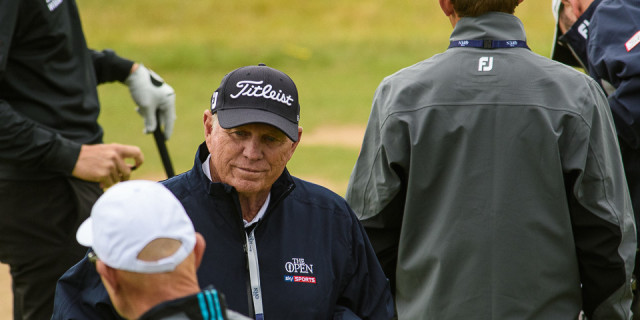 Craig Stadler / Kevin Stadler
13-time winner on the PGA Tour, Craig overcame a back-nine collapse to win the Masters in 1982 via a playoff, and became a recognisible figure due to his large build and moustache. The Walrus played each year at Augusta National until 2014, when Kevin qualified for the first time after winning the Phoenix Open, making history by competing in the same tournament. The younger Stadler has won on both the PGA and European Tours, but has been absent from the game for over two years after struggling with injury.
Jay Haas / Bill Haas
Nephew of former Masters champion Bob Goalby, Jay Haas won nine times on the PGA Tour, and recorded nine top five finishes in majors. Playing in three Ryder Cups, he later enjoyed success as a senior golfer, picking up 18 titles on the Champions Tour, including three over-50 majors.
Bill is a six-time champion on the PGA Tour and has represented the United States in the Presidents Cup, but is most notable for having dramatically won the FedEx Cup in 2011 - securing the eye-watering $10m bonus prize.
---
Tags:
comments powered by

Disqus

Tee Time Search
We recently rolled out a new search tool to make finding somewhere to play easier so you can find the right course, at the right time and at the right price. Why not give it a go?