Golf clubs with fingers in the right pies - and not a soggy bottom in sight
By: Golfshake Editor | Mon 06 Mar 2017 |
Comments
---
Post by Sports Writer, Derek Clements
---
YOU may not be aware that this is British Pie Week, a celebration of that great staple of our diet. There is nothing to beat a well-made pie, especially after 18 holes of golf.
You may well laugh, but this is a very serious matter (oh all right then, not that serious) - there is actually a football pie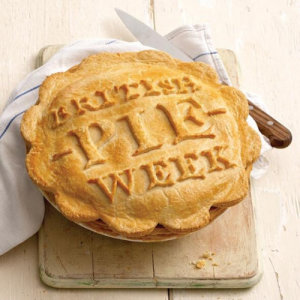 league, with Morecambe FC proudly sitting on top as a result of the quality of the club's home-made steak and ale pie. The key words there are "home-made" - most football clubs and many golf clubs buy in their pies and simply stick them in a microwave or heat them in an oven. We believe that the average golfer deserves something a little better.
What finer way to polish off a round of golf than by sitting down to a proper pie, washed down by a pint of good beer? So how do our golf clubs measure up? This does not pretend or claim to be a scientific study, and is certainly not a definitive list, but here we highlight some of the superior offerings, in no particular order, the sort of pie that even Gordon Ramsay might be able to enjoy without subjecting all around him to four-letter outburst.
We judge them on the quality of the filling, pastry and value for money. Any golf club that serves pies featuring a soggy bottom do not feature on our list. As far as we are concerned, soggy bottoms are a no-no
Fereneze Golf Club, Glasgow
Fereneze Golf Club offers a Steak and sausage pie, with chips or potatoes and vegetables. Nothing processed here - tender meat, tasty sausages and no soggy bottom in sight. Very filling, served with a smile. Great value at £6.50
Otley Golf Club, near Leeds
Otley Golf Club has an excellent clubhouse and a reputation for providing well-cooked, home-made fayre and the Otley Golf Club Steak and Ale Pie, which is served in an individual eartherware dish, does not disappoint. Featuring short-crust pastry, the portions are extremely generous. Add a starter or dessert and you will have £11 well spent. They also do a cracking pork pie
Allerton Manor Golf Club, Liverpool
You know you have cracked it when you visit a Allerton Manor Golf Club as it boasts a pie of the day, so you don't know what the filling is going to be until you turn up at the club's Stables restaurant and ask. It will cost you £9.95 and is served with creamed mashed potatoes, butter beans and gravy
Langdon Hills Golf Club, Essex
You get the best of all worlds at Langdon Hills. Pop in for lunch after your game and you can tuck into chicken and mushroom pie with new potatoes and fresh vegetables for £7.50 or sit down in the evening to home-made steak and ale pie with all the trimmings for £11.95 - that may seem a little pricey, but the surroundings are sumptuous and the pie is to die for
Newburgh on Ythan Golf Club, Newburgh, Aberdeenshire
Prepare to be spoilt for choice. Newburgh on Ythan Golf Club offers a selection of pies served with chips and beans for an unbelievable £4.50. Fillings include mince, steak and onion and macaroni cheese.
Bolton Golf Club
You may never have heard of a whist pie. Change all that with a visit to Bolton Golf Club and sink your teeth into one of these - the filling comprises cured port, minced beef, bacon and jelly. And they are delicious
Hill Barn Golf Club, Worthing
The exception to our soggy-bottom rule is seen at Hill Barn Golf Club, where you get a fabulous home-made chicken, ham and leek pie. There is nothing to beat it on a chilly winter's day.
Trevose Golf Club, Padstow
OK, we admit that it is not a pie in the truest sense, but the club fish pie at Trevose is worth inclusion on our list. It includes salmon, prawns and egg, smothered in creamy mashed potatoes and served with a salad garnish. It will set you back £11
York Golf Club
And now for something completely different. York Golf Club's menu features a selection of "light bites", the pick of which is the warm baked pork pie served with minted mushy peas, onion and gravy for just £3.50. Or for £2 you can take away some steak and ale pie
Cradoc Golf Club, Brecon, Wales
Now we don't know about you, but we just love "proper" pies, and proper pies come with puff pastry, just like the pie of the day served with potatoes and vegetables at Cradoc Golf Club for £8.95
Launceston Golf Club, Cornwall
When is a pie not a pie? When it's pastie, of course. And where better to sample a proper pastie than at Launceston Golf Club. They offer a home-made steak pastie, served with chips and beans for £5.85
Melton Mowbray Golf Club, Leicestershire
We couldn't complete this feature without mention of Melton Mowbray's Pork Pie Open, sponsored by piemaker Dickinson and Morris. A special challenge on the first hole involves a group of pies built in the middle of the fairway, with the contestant whose drive finishes closest receiving a Melton Mowbray pork pie from the sponsors
---
Tags:
comments powered by

Disqus

Tee Time Search
We recently rolled out a new search tool to make finding somewhere to play easier so you can find the right course, at the right time and at the right price. Why not give it a go?